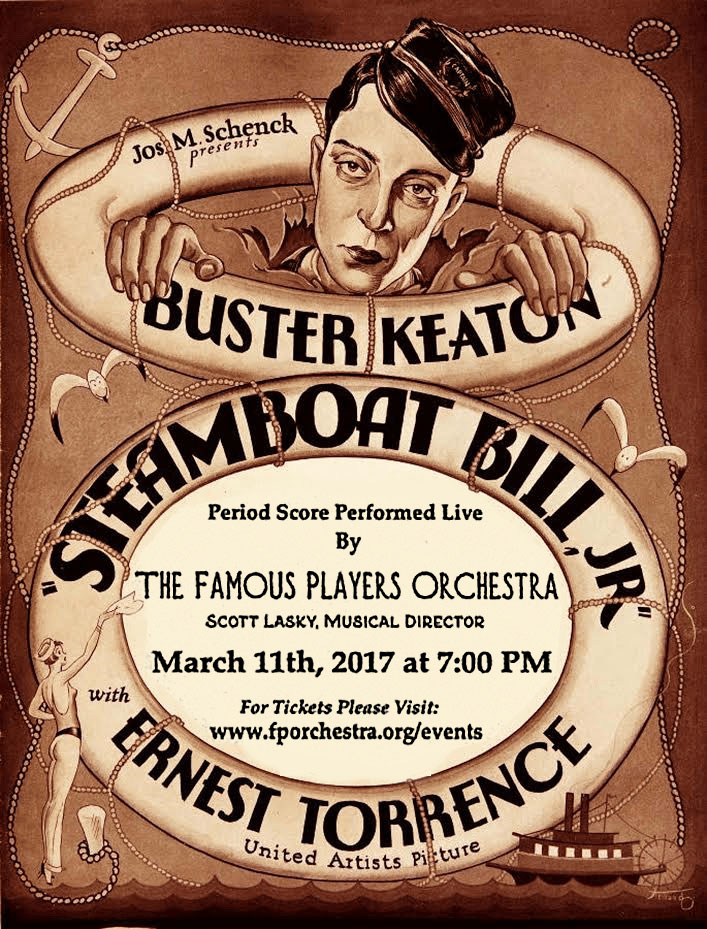 Join us this Sat­ur­day, March 11th, 2017 as we present Buster Keaton and Ernest Tor­rence in the 1928 silent com­e­dy clas­sic Steam­boat Bill Jr. with Live Accom­pa­ni­ment by the Famous Play­ers Orches­tra.
This is going to bean amaz­ing show and we real­ly need your help to get the word out. Please tell your friends about us. Or if you're on Face­book, please use this link: https://www.facebook.com/events/1723288244668436/ to "share" this rare event.
The film will be pre­sent­ed with a live peri­od musi­cal score per­formed by The Famous Play­ers Orches­tra under the direc­tion of Scott Lasky. § Joe Rin­au­do will project a high-def­i­n­i­tion restored 35mm film print on an orig­i­nal hand-cranked Power's 1909 Cam­er­a­gragh Mod­el 6 Motion Pic­ture Machine. § Your Mas­ter of Cer­e­monies will be film his­to­ri­an Stan Taffel.
Show­time is 7pm. Doors open at 6:15pm. Pro­gram will include a 30 minute inter­mis­sion and raf­fle with prizes. Con­ces­sions will be avail­able down­stairs at the snack bar.
Admis­sion is $10. Tick­ets may be pur­chased at the door begin­ning approx­i­mate­ly one hour before show­time, or in advance online here:
Loca­tion:
Christ Luther­an Church
2400 W. Bur­bank Blvd.
Bur­bank,
CA
91506
(south­east cor­ner of Bur­bank Bl.
&
Bue­na Vista St., direct­ly behind the Dunn-Edwards paint store)
MORE INFORMATION:
Famous Play­ers Orches­tra