MISSION

STATEMENT
TO PRESERVE
SILENT CINEMA ART AND TECHNOLOGY
AND PRESENT
REENACTMENTS OF ITINERANT
MOVING PICTURE SHOWS
---
Welcome to the Silent Cin­e­ma Soci­ety. This is a com­mu­ni­ty of, by and for every­one who is fas­ci­nat­ed and enter­tained by the his­to­ry, sci­ence, tal­ent, machin­ery, preser­va­tion, pre­sen­ta­tion and of course the films of the silent cin­e­ma era.
Whether it's the edu­ca­tion, enter­tain­ment or involve­ment that you are here for, wel­come to the Silent Cin­e­ma Soci­ety. Sit back and "enjoy the show" on each page of this web­site. You are wel­come to hiss and boo (in oth­er words, leave some com­ments). And ladies, please remove your hats.
Please sub­scribe (below) to the News­reel, the newslet­ter of the Silent Cin­e­ma Soci­ety. You will be informed of spe­cial events and arti­cles per­tain­ing to silent cin­e­ma.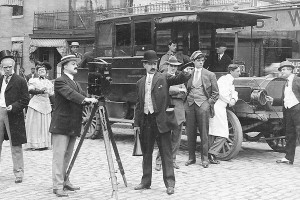 This web­site is just the pix­e­lat­ed por­tion of the com­mit­ment each of us has in keep­ing silent cin­e­ma alive. Many of us actu­al­ly splice film, refur­bish titles, oil pro­jec­tors, and hand-crank the entire show. Some of us induce emo­tion, whether com­i­cal or trag­ic, on the pipe organ or piano. Some pro­vide the venues — from grand the­atres and pipe organs to grass seats and garage walls — for the itin­er­ant pro­jec­tion­ist to enter­tain his audi­ence.
Many of the audi­ence mem­bers are already fans of silent cin­e­ma, but what's espe­cial­ly reward­ing is when those who are intro­duced for the first time say they enjoyed it even more than today's movies and TV shows. That's the real pay-off. Hope­ful­ly all of us will share our enthu­si­asm with oth­ers, keep­ing the inter­est in silent cin­e­ma alive for gen­er­a­tions to come.
The Silent Cinema Society website is intended to serve many purposes:
Enlight­en and enter­tain regard­ing the his­to­ry (and triv­ia) of the silent cin­e­ma era.
Share tech­ni­cal tips on the preser­va­tion and pre­sen­ta­tion of film, pro­jec­tors, foto­play­ers, and any­thing relat­ed to silent cin­e­ma.
Even­tu­al­ly a non-prof­it will be estab­lished to enable us to keep doing what we love: research­ing, col­lect­ing, restor­ing, edu­cat­ing and enter­tain­ing.
Most of all, the Silent Cin­e­ma Soci­ety was found­ed to gath­er a com­mu­ni­ty where we can swap sto­ries, exchange ideas, learn tech­niques, trade films, find resources, and make new friends.
Whether you are an indus­try pro­fes­sion­al, hob­by­ist, film stu­dent, or novice with a flick­er of inter­est in the silent mag­ic lantern, thank you for join­ing us.
Read about the founder, Joe Rin­au­do, here.
Your comments and suggestions are most appreciated, below: