Plug your ears! Joe Rin­au­do demon­strates his Amer­i­can Foto­play­er on Huell Howser's Cal­i­for­nia Gold:
Joe Rin­au­do dis­cuss­es the Amer­i­can Foto­play­er:
Joe Rin­au­do, founder of the Silent Cin­e­ma Soci­ety, has a pas­sion for antique phono­graphs, hand crank motion pic­ture pro­jec­tors, and mechan­i­cal musi­cal instru­ments. Among these, his most prized pos­ses­sion is the Amer­i­can Foto­play­er.
American Fotoplayer
STYLE 20 (MODIFIED)

So what exact­ly is an Amer­i­can Foto­play­er ?
The foto­play­er ("foto" from pho­to­play and "play­er" from play­er piano) is a won­der­ful con­trap­tion that was built to pro­vide music and sound effects for silent movies. These machines appeared around 1912 and were used in medi­um sized the­aters. Foto­play­ers were in expen­sive to oper­ate because you didn't have to be a musi­cian to play them as they were also playable by way of play­er piano rolls.
The foto­play­er used a fas­ci­nat­ing com­bi­na­tion of piano, organ pipes, drums, and var­i­ous sound effects designed to nar­rate the action of any silent film.
Ped­als, levers, switch­es, but­tons, and pull cords were all used to turn on the xylo­phone, beat a drum, ring a bell, cre­ate the sound of thun­der, or chirp like a bird.
When sound films came into being in the late 1920's, the foto­play­er became passé. Of the thou­sands of Amer­i­can foto­play­ers made dur­ing their hey­day, sad­ly less than 50 sur­vive, and of those only 12 are known to be in play­ing con­di­tion. One of those 12 is in Joe's liv­ing room.
This machine was orig­i­nal­ly built in 1926 in Van Nuys Calif. and shipped to a the­ater in Saskatchewan Cana­da. It was metic­u­lous­ly restored by Joe Rin­au­do in 1976…after being shipped back to Cal­i­for­nia.
The Piano Console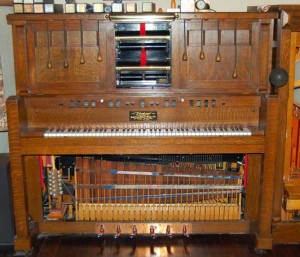 The piano con­sole hous­es the piano, sleigh bells, xylo­phone, clax­on horn, siren, tri­an­gle and a vari­ety of organ pipes. From top to bot­tom there are pull cords that con­trol gun shot, wind siren, ride and crash cym­bals, train whis­tle, chime, tom-tom, and bass drum. Just above the key­board there is a series of switch­es that can turn on and off the tremo­lo effect and var­i­ous organ pipes rang­ing from bass flute to vio­lin. Some switch­es also con­trol the xylo­phone and man­dolin sounds while push but­tons con­trol sound effects such as sleigh bells, door bell, car horn, and bird whis­tle. The tri­an­gle, cas­tanets, tam­bourine, wood block, snare drum and cow­bell are also con­trolled from tele­graph type keys in this same loca­tion. To the far right is a bulb horn. The ped­als at the floor are used for thun­der, bass drum/cymbal, soft piano, sus­tain, snare drum, and police siren.
The Side Chest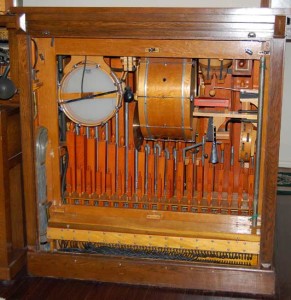 The side chest hous­es most of the organ pipes and sound effects. Vis­i­ble are the organ pipes, snare and bass drums, ride cym­bal, cas­tanets, cow­bell, wood block, tam­bourine, and chime. Con­cealed under the lid or behind the pipes are the crash cym­bal, wind siren, bird whis­tle, thun­der, and police siren. Larg­er mod­el foto­play­ers used two side chests that con­tained a wider array of pipes and sound effects.
Dual Roll Player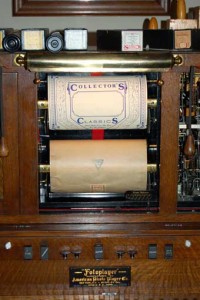 A unique fea­ture of the foto­play­er is the dual roll play­er. Not only does this keep a con­stant flow of music with­out inter­rup­tion, but it also allows the oper­a­tor to change the music to suit the scene instant­ly. With the flick of a lever the mood can be changed from an excit­ing chase to a mushy love scene.
Picturoll

Though any piano roll could be used on the foto­play­er, the Pic­tur­oll made by the Film Music Co. were made specif­i­cal­ly for the foto­play­er. The Pic­tur­olls were cut with a unique com­bi­na­tion of long and short holes in the paper to make the piano and the organ pipes per­form bet­ter togeth­er.
The titles of these rolls indi­cate the mood of music which one would play to match the action pro­ject­ed on the screen. Titles such as Mushy Music, Fire! Fire! Fire!, Drunk Soused Spree, and The Roar­ing Vol­cano, are some of the typ­i­cal rolls that a foto­play­er oper­a­tor would have ready-at-hand.
Please let Joe Rin­au­do know if you have or have seen any of these Pic­tur­olls, as Joe would love to hear them played on his machine. Con­tact him here.
TESTING

A

NEW

COMPOSITION
Scott Lasky and Joe Rinaudo listen to a few test runs of Mr. Lasky's new roll arrangement of 'traditional' silent film chase music.
Scott Lasky is Musi­cal Direc­tor for Famous Play­ers Orches­tra, a silent film orches­tra based in Los Ange­les. Mr. Lasky vis­it­ed Joe Rin­au­do to test his new­ly-cut piano roll.
Accord­ing to Mr. Lasky , "I recent­ly dropped in on Joe Rin­au­do and showed him a new piano roll arrange­ment I was work­ing on. This was a test roll which we tried out on the Amer­i­can Foto­play­er in order to hear how it would sound using dif­fer­ent set­tings and tem­pi and also check for errors." That vis­it was filmed for the above video.
REVIVING
REMARKABLE
MUSIC
Vis­it the Famous Play­ers Orches­tra web­site, FPOrchestra.org, and enjoy this short piece about music of the silent cin­e­ma, and about the orga­ni­za­tion:
Famous Play­ers Orches­tra CD Fund Dri­ve
Share your love of silent films and great his­toric music of the silent era with a con­tri­bu­tion to Famous Play­ers Orches­tra. Famous Play­ers Orches­tra is an IRS 501(c)(3) not-for-prof­it orga­ni­za­tion and your tax-deductable con­tri­bu­tions are great­ly appre­ci­at­ed! Your gen­er­ous sup­port will help FPO to con­tin­ue their work in reviv­ing this remark­able for­got­ten music through live con­cert per­for­mances and new record­ing projects. Vis­it the dona­tion page.