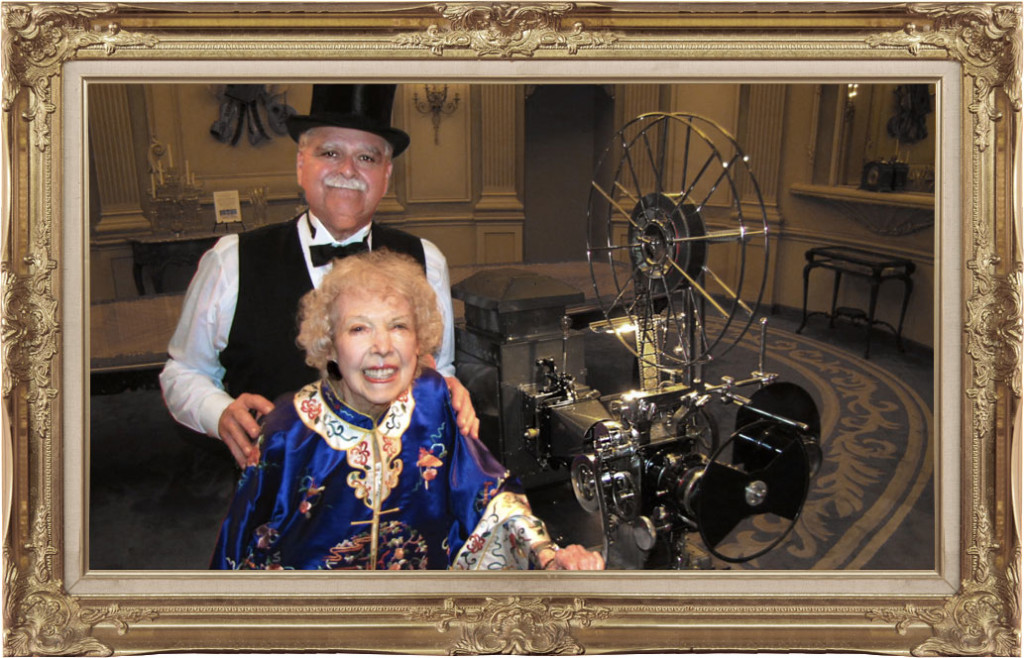 Carla Laemmle, 104, attends screening of 1925 Phantom of the Opera, in which she was the prima ballerina. Film was restored by Joe Rinaudo, seen here with Ms. Laemmle.
Watch the documentary below:
---
Documentary: Premiere Screening of Restored Phantom of the Opera
This fas­ci­nat­ing doc­u­men­tary by Michael J. Cahill / 35mm Films takes you to the grand ball­room at the Nether­cutt, where you wit­ness the behind-the-scenes thread­ing, crank­ing, and pro­ject­ing of the Restored 1925 Phan­tom of the Opera. You also see the chang­ing of glass lantern slides for reel changes and inter­mis­sion.
Carla Laemmle in audience and on screen
This pre­miere screen­ing of the restored film was attend­ed by Ms. Car­la Laemm­le, niece of Carl Laemm­le, own­er of Uni­ver­sal Stu­dios at the time. Most fas­ci­nat­ing is that Ms. Laemm­le was not only in the audi­ence, she was in the film, fea­tured as the pri­ma bal­le­ri­na.
Ms. Laemm­le, 104 years of age when this doc­u­men­tary was filmed, gave an insight­ful inter­view to Joe Rin­au­do, recall­ing spe­cial moments on the set and work­ing with Lon Chaney.
Of spe­cial note is that the film was pro­ject­ed on a Pow­ers Cam­er­a­graph, man­u­fac­tured in 1909 — the same year Car­la Laemm­le was born.
Ms. Laemm­le attend­ed the screen­ing on Octo­ber 26, 2013 of the restored Phan­tom of the Opera, the film she danced in near­ly nine­ty years pri­or. She passed away sev­en months lat­er. Con­tin­ue read­ing Car­la Laemm­le, 104, Attends Restored Phan­tom Screen­ing →