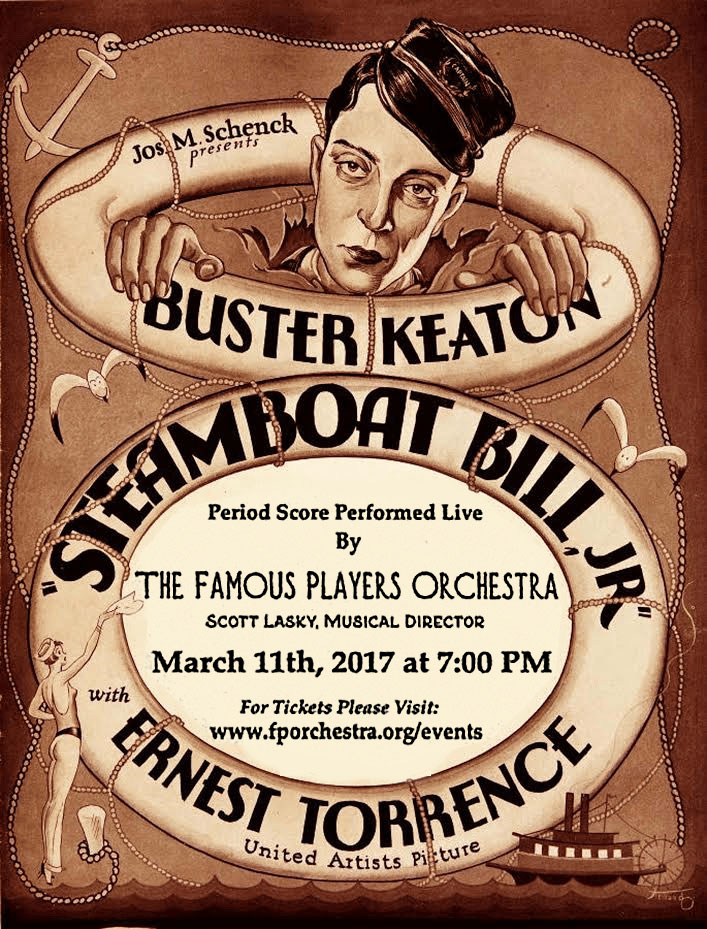 Join us this Saturday, March 11th, 2017 as we present Buster Keaton and Ernest Torrence in the 1928 silent comedy classic Steamboat Bill Jr. with Live Accompaniment by the Famous Players Orchestra.
This is going to bean amazing show and we really need your help to get the word out. Please tell your friends about us. Or if you're on Facebook, please use this link: https://www.facebook.com/events/1723288244668436/ to "share" this rare event.
The film will be presented with a live period musical score performed by The Famous Players Orchestra under the direction of Scott Lasky. § Joe Rinaudo will project a high-definition restored 35mm film print on an original hand-cranked Power's 1909 Cameragragh Model 6 Motion Picture Machine. § Your Master of Ceremonies will be film historian Stan Taffel.
Showtime is 7pm. Doors open at 6:15pm. Program will include a 30 minute intermission and raffle with prizes. Concessions will be available downstairs at the snack bar.
Admission is $10. Tickets may be purchased at the door beginning approximately one hour before showtime, or in advance online here:
Location:
Christ Lutheran Church
2400 W. Burbank Blvd.
Burbank, CA 91506
(southeast corner of Burbank Bl. & Buena Vista St., directly behind the Dunn-Edwards paint store)
MORE INFORMATION:
Famous Players Orchestra