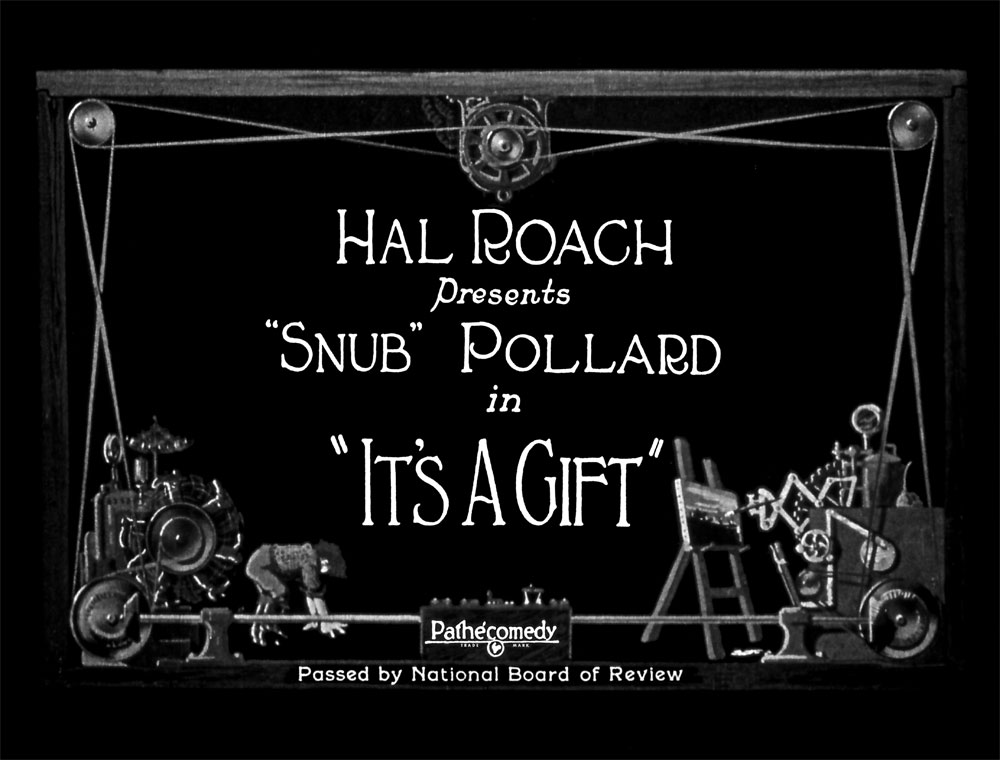 Sometimes — maybe once in a lifetime — we get the chance to do something enjoyable and fun that we thought we'd never be able to do again, simply because technology had taken its place. Thanks to an old friend, I've been given that chance.
by Chaz DeS­i­mone
Joe Rin­au­do, founder of Silent Cin­e­ma Soci­ety, has giv­en me a gold­en (black and white, actu­al­ly) oppor­tu­ni­ty to recap­ture a romance from the past: real hand let­ter­ing with pen and brush, and fine typog­ra­phy when wood and met­al char­ac­ters were set by hand. That, com­bined with repli­cat­ing the lay­outs and artis­tic styles of yes­ter­year, is what I nev­er thought I'd do again. But as syn­chronic­i­ty between two old friends would have it, I am once again thriv­ing at my pas­sion.
We're talk­ing — er, we're silent — about hand-let­ter­ing title cards for the silent cin­e­ma era of the ear­ly 1900s, when cam­eras and pro­jec­tors were cranked by hand, and when actors had no speak­ing lines. Along with elab­o­rate main title art­work, all the dia­logue and nar­ra­tive text was print­ed or hand-let­tered on title cards, called inter-titles, pho­tographed and spliced into the film. The film titles and cred­its were most often elab­o­rate­ly hand-let­tered with embell­ish­ments, but some­times sim­ply type­set, then pho­tographed as still images.
Back to my black-and-white oppor­tu­ni­ty:

Joe Rin­au­do asked me awhile back if I'd be inter­est­ed in restor­ing the title cards for his films and cre­ate new ones when the orig­i­nals are lost to time.
Who knew two best friends would be so valuable to each other nearly fifty years after meeting in seventh grade?
I'm restor­ing the miss­ing parts to his films and he's restor­ing my pas­sion for let­ter­ing and typog­ra­phy. I have enjoyed ren­der­ing titles for Joe for sev­er­al years now, and I even get to see them pro­ject­ed on the sil­ver screen in silent come­dies and dra­mas accom­pa­nied by the Mighty Wurl­itzer. (Twice a year Joe brings his itin­er­ant show to the Nether­cutt Muse­um in Syl­mar, Cal­i­for­nia. A cal­en­der of events and details about the shows are on their web­site. He presents itin­er­ant shows else­where in Cal­i­for­nia, too. Sub­scribe to the Silent Cin­e­ma Soci­ety News­reel for announce­ments.)
Much of my work for these titles is clean­ing up scanned images of the orig­i­nal neg­a­tives. Some­times I have to "chop up" let­ters to replace parts of those which are bad­ly dete­ri­o­rat­ed. When titles are miss­ing entire­ly (usu­al­ly due to splic­ing after splic­ing of these near­ly hun­dred-year-old films) I have the most fun! Draw­ing upon my skill of hand let­ter­ing (which I did before com­put­ers could set a nice script or a mod­i­fy a type­style) and knowl­edge of peri­od type styles, I cre­ate new title cards from scratch, based on exist­ing footage and artis­tic styling of the era. Most of the let­ter­ing and effects I accom­plish with Pho­to­shop, but once in awhile I still need to use a real pen or brush with real ink to get just the right swing or flair.
You might be won­der­ing, how is it pos­si­ble that if all the scenes are intact on these films, just the titles and inter­ti­tles are miss­ing? I won­dered the same thing. Joe explains that much of the live action footage is indeed miss­ing on these old films, but the remain­ing footage still car­ries the sto­ry. How­ev­er, if a dia­log or nar­ra­tive inter­ti­tle is absent, the plot is hard to fol­low. So the new inter­ti­tles are insert­ed and the film seems com­plete, even with sev­er­al live action frames miss­ing. Most of the let­ter­ing I recre­ate for Joe is tak­en from the exact text in the films' orig­i­nal man­u­scripts.
How­ev­er, when a restora­tion is cre­at­ed from seg­ments of sev­er­al prints of the same film — for instance, where some reels con­tain rare footage which is miss­ing from oth­ers — Joe assem­bles a "com­plete" ver­sion, for which he metic­u­lous­ly ana­lyzes the orig­i­nal nar­ra­tive and dia­logue, then writes appro­pri­ate text for recre­at­ed title cards. He is thus ren­der­ing a ful­ly-restored ver­sion that repli­cates as much as pos­si­ble of the orig­i­nal.
Such is the case with Joe Rinaudo's restora­tion of The Phan­tom of the Opera. He is plan­ning an arti­cle for this web­site which doc­u­ments each step of the process, includ­ing restora­tion of the orig­i­nal 2-strip Tech­ni­col­or seg­ments of the film.
TITLE
CARD
GALLERY
Here are some titles I've either cleaned up or cre­at­ed from scratch, repli­cat­ing the orig­i­nals, on a blank sheet of poster board (either Strath­more with ink or Pho­to­shop with pix­els) which were then pho­tographed and insert­ed into the restored films:
.
GLASS
LANTERN
SLIDES
See authen­tic glass lantern slides from Joe Rinaudo's col­lec­tion.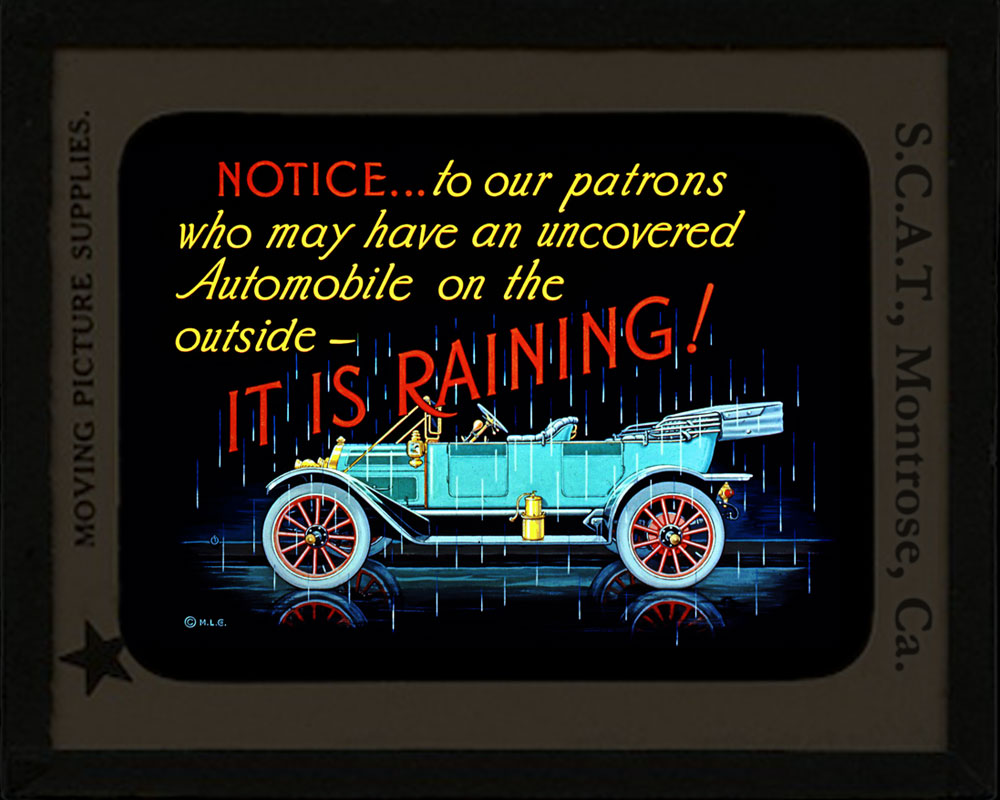 HAPPY
BIRTHDAY
STUBBY
Joe Rin­au­do chopped off the tip of his fin­ger in a met­al shear the day before his birth­day a few years ago (it mirac­u­lous­ly grew back just like new), so I cre­at­ed this "film title" as his birth­day card.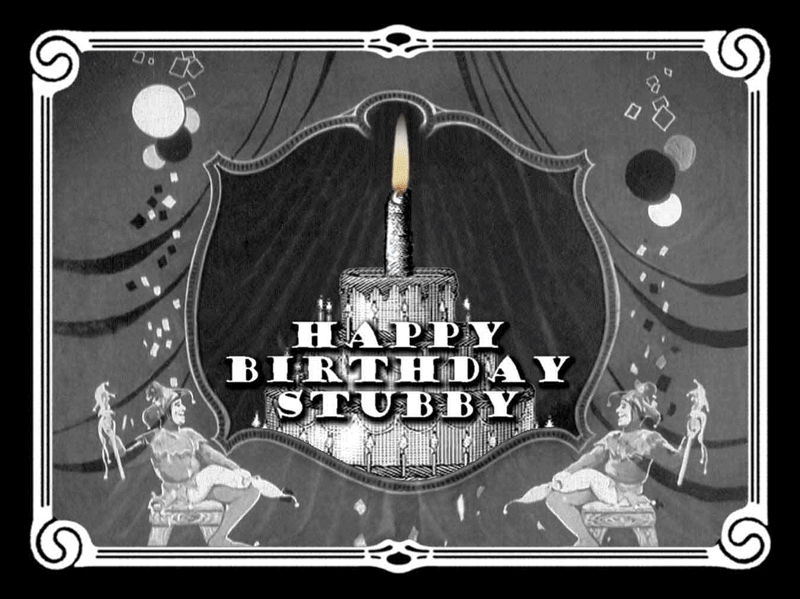 Hey, humor was crude back in the 1920's.
.