For a sight-and-sound glimpse into the world of Joe Rin­au­do, which includes silent films, pro­jec­tors, mechan­i­cal instru­ments, ear­ly phono­graphs and vin­tage light­ing, watch the Huell Hows­er "Cal­i­for­nia Gold" doc­u­men­tary which aired Feb­ru­ary 18, 2006. The pro­gram begins after a 60-sec­ond spon­sor announce­ment, and runs 30 min­utes:
"

Professor Rinaudo"

JOSEPH A. RINAUDO
Silent Cin­e­ma His­to­ri­an and Preser­va­tion­ist
Founder of the Silent Cin­e­ma Soci­ety
Having been best friends with Joe for over 50 years, I am honored to introduce you to my friend,
Mr. Joseph A. Rinaudo…
Introduction by Chaz DeSimone
"PROFESSOR RINAUDO" as silent cin­e­ma afi­ciona­dos call him, has been my friend for over fifty years, since junior high school.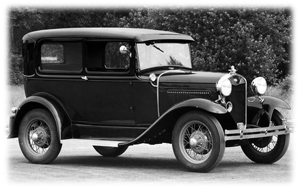 Back when I met Joe he was restor­ing his Mod­el A to show­room con­di­tion, and it was always fun rid­ing around in that thing… includ­ing the some­what embar­rass­ing episode when Joe pulled into a gas sta­tion and pur­chased a whole nickel's worth of gaso­line! It got us home, though.
At that time Joe was also col­lect­ing 16mm silent films and would put on shows for his friends. Today he research­es, col­lects, restores and exhibits silent films (35mm these days) on a Pow­ers Cam­er­a­graph hand-crank pro­jec­tor, usu­al­ly with live accom­pa­ni­ment of the­ater organ or piano, as itin­er­ant shows to audi­ences far and wide, includ­ing the Acad­e­my of Motion Pic­ture Arts and Sci­ences (in oth­er words, the Oscar peo­ple). Joe Rin­au­do is also con­sul­tant and provider of restored films to the Library of Con­gress.
This is Joe's story, in his own words:
---
My inter­est in old films began in the 1950's on black & white tele­vi­sion when most of the sta­tions would show silent car­toons and come­dies. The col­lect­ing bug came to a head when my father (who loved to film every­thing with his 8mm cam­era) dur­ing our reg­u­lar Sat­ur­day night 8mm home movie film shows insert­ed a Buster Keaton silent com­e­dy reel in with our home movies. He pref­aced this reel by stat­ing that this was an old home movie of our fam­i­ly from the 1920's. Imag­ine my shock and hap­py sur­prise when I real­ized that I could own one of the mag­i­cal films that I thought could only be seen on tele­vi­sion! I then saved up enough allowance mon­ey to buy my own 8mm films from Sears & Roe­buck for 99 cents! I then began show­ing these films to kids in the neigh­bor­hood for 5 cents. I used a 78 rpm phono­graph with Spike Jones and Fats Waller records for the music. When I had saved up enough mon­ey I would buy anoth­er film.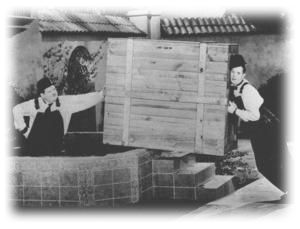 "The mad­ness con­tin­ues! By the ear­ly 1960's I began col­lect­ing 16mm silent films. I remem­ber how excit­ed I was when my moth­er would dri­ve me down to Films Clas­sics Exchange on Ver­mont Avenue in Los Ange­les. There a man by the name of Char­lie Tar­box would be seat­ed at his antique desk with an old Under­wood type­writer. He always wore a black suit with a thin black tie. He had a shock of white hair and a cig­ar in his mouth. There were stacks of film every­where. This was an old build­ing with a wood­en floor and high ceil­ings. It smelled of stale cig­ar smoke and acetate film. This was right out of the 1920's! Char­lie was always very kind to me and his voice remind­ed me of some­thing like a com­bi­na­tion of W.C. Fields and Maxwell Smart! Then the big moment arrived when I pur­chased my first sound 16mm film from Black­hawk Films, Lau­rel and Hardy's The Music Box. Talk about mag­ic! I now had a film of high qual­i­ty (com­pared to 8mm) and it talked! I began show­ing my 16mm films to orga­ni­za­tions and for pri­vate par­ties for mon­ey that I could invest into more 16mm film. By the 1970's I had amassed a very large 16mm col­lec­tion.
"When I was at Glen­dale Col­lege in the ear­ly 1970's, there was a short­age of funds (some­thing called a tax over ride?). We had heard that two teach­ers were going to lose their jobs. A fund rais­er was start­ed. I offered to show films in the audi­to­ri­um with all pro­ceeds going for the teach­ers' salaries. I ran Lau­rel and Hardy and W.C. Fields films. The pro­gram was a big suc­cess and enough mon­ey was raised, to the best of my rec­ol­lec­tion, from this and all of the oth­er fund rais­ing efforts to save the teach­ers' jobs. The Glen­dale News Press inter­viewed me about the film shows and my col­lec­tion of film. Unfor­tu­nate­ly, the reporter took the lib­er­ty of stat­ing that "Joe loves to show movies at his house and any­one is wel­come to stop by and watch a film!" This was only for my friends but it was too late for a retrac­tion and the phone start­ed ring­ing with peo­ple ask­ing if they might come over for a "Show"! Com­plete strangers would stop by and ring the bell to see when the next show would be! Fend­ing off all of the crazy calls was becom­ing a real problem…until one phone call in which a woman's voice said:
"I under­stand that you have some of my father's films."
"Now I thought, oh my, anoth­er nut case. What can this be about? The voice iden­ti­fied her­self as Lois Brooks — Stan Laurel's daugh­ter! She had seen the arti­cle in the paper and read the part where I men­tioned I had almost every Lau­rel & Hardy film. Since videos were not avail­able, these films could only be seen on TV, in a the­ater, or on 16mm film. Since she found it dif­fi­cult to find any of her father's films, she asked if she and her hus­band Rand Brooks might come over some­time to watch a Lau­rel & Hardy film! There a great friend­ship began. I brought Lois to her first Lau­rel & Hardy club meet­ing (The Sons Of The Desert). Lat­er I became the film archivist for the Lau­rel fam­i­ly as well as for the local of the Sons Of The Desert chap­ter, the Way Out West tent. I would trav­el with Lois and her new hus­band Tony Hawes for local shows and lec­tures that Lois and Tony would put on. These were very fun times as I got to meet a lot of old actors from the Hal Roach stu­dios as well as show films reg­u­lar­ly at the Masquer's Club in Hol­ly­wood. There I had the priv­i­lege to meet a lot of famous peo­ple back at the pro­jec­tor.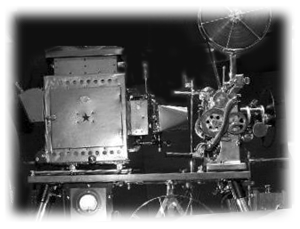 "The mad­ness gets worse! Com­pared to 35mm I always thought that 16mm was the end all be all for film col­lect­ing. In many ways it is due to the avail­abil­i­ty of so many titles, cost and ease of mov­ing the light weight equip­ment. But…I always had a fas­ci­na­tion for 35mm hand crank pro­jec­tors. A friend of mine, Dave Feld­man, and I took a road trip to vis­it Mr. George Hall in Tuc­son, Ari­zona. George, who I now con­sid­er my men­tor, had a vast col­lec­tion of ear­ly 35mm pro­jec­tion equip­ment and film. In fact his house was set up as an ear­ly cin­e­ma muse­um. When we were there, George demon­strat­ed his 1905 Power's mod­el 5 Cam­er­a­graph hand crank pro­jec­tor with a live arc in the lam­p­house! What a thrill to see this! I asked if I could crank a film and he took me back to anoth­er pro­jec­tor (a Sim­plex) which was hard­er to crank — but that didn't mat­ter. All that I can remem­ber is that I start­ed crank­ing and was so mes­mer­ized by the mag­i­cal image cre­at­ed by crank­ing this won­der­ful machine, I couldn't stop, and at about 2:00 a.m., after crank­ing some 20,000 feet of film, Dave and George had to pull me away from the pro­jec­tor!
"I pur­chased a Power's mod­el 6A lam­p­house and base from George. I then pur­chased a very nice Power's mod­el 6B pro­jec­tor head from Mr. Dick Prather in Port­land, Ore­gon. I did a full-on restora­tion and con­vert­ed the lam­p­house to a high inten­si­ty halo­gen light source that is safe for film. I begged and bor­rowed small pieces of 35mm film. I would do demon­stra­tions on the side of my build­ing and on my garage door at home. Wow! What a pic­ture! 35mm rules!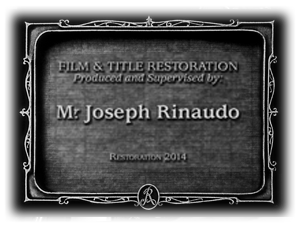 "I start­ed doing out­door demon­stra­tions with any film that I could find. I nev­er thought that I would be able to afford a real 35mm film, let alone a silent. My good friend Mr. David Shep­ard asked me if I would do a show for him at the Silent Movie The­ater in Los Ange­les. He said that this year (2002) was the 100th anniver­sary of Georges Melies's A Trip To The Moon. Mr. Bob Mitchell would be play­ing the music and David Shep­ard would be read­ing the spo­ken text. We would have to do two shows. He kind­ly offered to let me make a new print off of his neg­a­tive in return for crank­ing the shows! To do my first pub­lic per­for­mance with such impor­tant and won­der­ful peo­ple as Bob Mitchell and David Shep­ard at the Silent Movie The­ater with CNN in attendance…heck, I would have paid David to do the shows! So with my able assis­tant, Mr. Gary Gib­son, both of us dressed like itin­er­ant pro­jec­tion­ists from the ear­ly 1900's, both shows went over well to full hous­es and great reviews.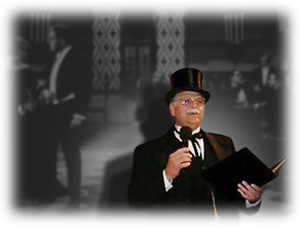 "Since that time I have worked with The Library of Con­gress in the restora­tion of silent film, as well as doing reg­u­lar hand crank shows for the Acad­e­my of Motion Pic­ture Arts and Sci­ences' 100 Years of Film series. With Mr. Dean Mora and Mr. Gary Gib­son we have done and reg­u­lar­ly do re-cre­ation turn-of-the-last-cen­tu­ry itin­er­ant motion pic­ture shows for The Hand­ford Fox The­ater, The Visalia Fox The­ater, The Bal­boa The­ater, The Peter­son Car Muse­um, The Turn­er Clas­sic Film Fes­ti­val, The San Rafael The­ater, six shows a year at the Nether­cutt Muse­um (boast­ing the third largest the­ater organ in the world) and numer­ous col­leges, schools, and oth­er venues.
"Look­ing back to my 8mm days, I would have nev­er thought in my wildest dreams that I would have end­ed up pro­ject­ing 35mm — with a crank, no less!"
---
I am very proud of my friend Joe for accomplishing his dream of founding the Silent Cinema Society to preserve the art and technology of silent cinema. I am also honored he employs my talent to restore the titles for his films…
A Golden Opportunity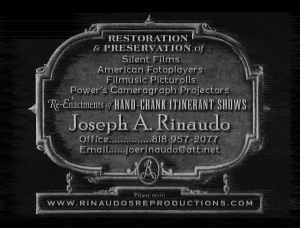 Actu­al­ly, this was a Black-and-White Oppor­tu­ni­ty: Joe asked me a few years ago if I'd be inter­est­ed in restor­ing the title cards for his films and cre­ate new ones when the orig­i­nals are lost to time. Who knew two best friends would be so valu­able to each oth­er near­ly fifty years after meet­ing in sev­enth grade — my restor­ing the miss­ing parts to his films and he restor­ing my pas­sion for let­ter­ing and typog­ra­phy? I have enjoyed ren­der­ing titles for Joe for sev­er­al years now, and I even get to see them pro­ject­ed on the sil­ver screen in silent come­dies and dra­mas accom­pa­nied by the Mighty Wurl­itzer. (Twice a year Joe brings his itin­er­ant show to the Nether­cutt Muse­um in Syl­mar, Cal­i­for­nia. A cal­en­der of events and details about the shows are on their web­site.)
Silent…with Sound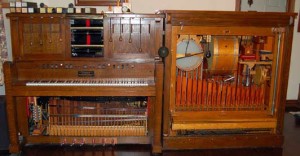 Joe is all about silent film, but he also loves sound. Loud sound! Not the dia­log and music that pass­es through the pro­jec­tor that is print­ed on the film. Oh no, Joe's silent films are accom­pa­nied by an ear-shat­ter­ing, robust "sym­pho­ny" cre­at­ed by one per­son sit­ting at one machine: The Foto­play­er. This resem­bles a play­er piano, but with two rolls for chang­ing music for dif­fer­ent scenes; an assort­ment of pull cords, levers, but­tons and stops con­nect­ed to a side cab­i­net con­tain­ing organ pipes, per­cus­sion, brass, sound effects, and lit­er­al­ly bells and whis­tles. The pianist usu­al­ly lets the rolls play the music while he selects the instru­ment stops and cre­ates the sound effects. He's watch­ing the film, of course, all at the same time.
Joe has one of these machines. He acquired his Amer­i­can Foto­play­er Style 20 while he was 21 years old and spent the next three years restor­ing it to brand-new con­di­tion. it's the cen­ter­piece in his liv­ing room. This thing is loud! It's amaz­ing Joe has any neigh­bors left, unless they're all hard of hear­ing. Joe recent­ly com­plet­ed the restora­tion of a Style 41 Amer­i­can Foto­play­er for the Acad­e­my of Motion Pic­ture Arts and Sci­ences (remem­ber, the Oscar peo­ple).
Learn more about the Foto­play­er on Joe's Foto­play­er Page.
See the cal­en­dar of Pro­fes­sor Rinaudo's Itin­er­ant Shows under "COMING ATTRACTIONS" and treat your­self to some com­e­dy, sus­pense, or pathos of the gold­en — er, black and white — era of silent cin­e­ma.