When Joe Rin­au­do restored his Mod­el 20 Foto­play­er over three decades ago, he nev­er intend­ed to play clas­sic rock & roll on it. But the peo­ple of YouTube made sure he did. Here is one of the clev­erist, per­fect­ly timed dubs you'll ever see and hear and LOL to. (Don't be fooled — this is not the Huell Hows­er seg­ment you saw on TV.)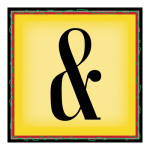 Here's a poster series for any­one who is in tune with amper­sands, brand names with amper­sands, or Guns & Ros­es with an amper­sand instead of their offi­cial n' (which should real­ly be 'n'). Amper­Art is cre­at­ed by Chaz DeS­i­mone, who also restores title cards for Joe's silent films.
If you pre­fer a poster with Lau­rel & Hardy, click here.