For a sight-and-sound glimpse into the world of Joe Rinaudo, which includes silent films, projectors, mechanical instruments, early phonographs and vintage lighting, watch the Huell Howser "California Gold" documentary which aired February 18, 2006. The program begins after a 60-second sponsor announcement, and runs 30 minutes:
"Professor Rinaudo"

JOSEPH A. RINAUDO
Silent Cinema Historian and Preservationist
Founder of the Silent Cinema Society
Having been best friends with Joe for over 50 years, I am honored to introduce you to my friend,
Mr. Joseph A. Rinaudo…
Introduction by Chaz DeSimone
"PROFESSOR RINAUDO" as silent cinema aficionados call him, has been my friend for over fifty years, since junior high school.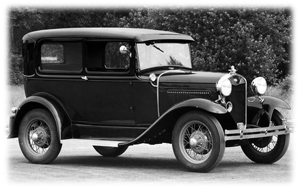 Back when I met Joe he was restoring his Model A to showroom condition, and it was always fun riding around in that thing… including the somewhat embarrassing episode when Joe pulled into a gas station and purchased a whole nickel's worth of gasoline! It got us home, though.
At that time Joe was also collecting 16mm silent films and would put on shows for his friends. Today he researches, collects, restores and exhibits silent films (35mm these days) on a Powers Cameragraph hand-crank projector, usually with live accompaniment of theater organ or piano, as itinerant shows to audiences far and wide, including the Academy of Motion Picture Arts and Sciences (in other words, the Oscar people). Joe Rinaudo is also consultant and provider of restored films to the Library of Congress.
This is Joe's story, in his own words:
---
My interest in old films began in the 1950's on black & white television when most of the stations would show silent cartoons and comedies. The collecting bug came to a head when my father (who loved to film everything with his 8mm camera) during our regular Saturday night 8mm home movie film shows inserted a Buster Keaton silent comedy reel in with our home movies. He prefaced this reel by stating that this was an old home movie of our family from the 1920's. Imagine my shock and happy surprise when I realized that I could own one of the magical films that I thought could only be seen on television! I then saved up enough allowance money to buy my own 8mm films from Sears & Roebuck for 99 cents! I then began showing these films to kids in the neighborhood for 5 cents. I used a 78 rpm phonograph with Spike Jones and Fats Waller records for the music. When I had saved up enough money I would buy another film.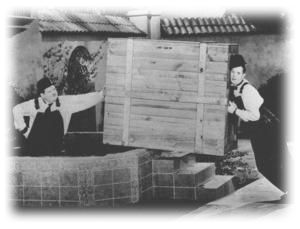 "The madness continues! By the early 1960's I began collecting 16mm silent films. I remember how excited I was when my mother would drive me down to Films Classics Exchange on Vermont Avenue in Los Angeles. There a man by the name of Charlie Tarbox would be seated at his antique desk with an old Underwood typewriter. He always wore a black suit with a thin black tie. He had a shock of white hair and a cigar in his mouth. There were stacks of film everywhere. This was an old building with a wooden floor and high ceilings. It smelled of stale cigar smoke and acetate film. This was right out of the 1920's! Charlie was always very kind to me and his voice reminded me of something like a combination of W.C. Fields and Maxwell Smart! Then the big moment arrived when I purchased my first sound 16mm film from Blackhawk Films, Laurel and Hardy's The Music Box. Talk about magic! I now had a film of high quality (compared to 8mm) and it talked! I began showing my 16mm films to organizations and for private parties for money that I could invest into more 16mm film. By the 1970's I had amassed a very large 16mm collection.
"When I was at Glendale College in the early 1970's, there was a shortage of funds (something called a tax over ride?).  We had heard that  two teachers were going to lose their jobs. A fund raiser was started. I offered to show films in the auditorium with all proceeds going for the teachers' salaries. I ran Laurel and Hardy and W.C. Fields films. The program was a big success and enough money was raised, to the best of my recollection, from this and all of the other fund raising efforts to save the teachers' jobs. The Glendale News Press interviewed me about the film shows and my collection of film. Unfortunately, the reporter took the liberty of stating that "Joe loves to show movies at his house and anyone is welcome to stop by and watch a film!" This was only for my friends but it was too late for a retraction and the phone started ringing with people asking if they might come over for a "Show"! Complete strangers would stop by and ring the bell to see when the next show would be! Fending off all of the crazy calls was becoming a real problem…until one phone call in which a woman's voice said:
"I understand that you have some of my father's films."
"Now I thought, oh my, another nut case. What can this be about?  The voice identified herself as Lois Brooks—Stan Laurel's daughter! She had seen the article in the paper and read the part where I mentioned I had almost every Laurel & Hardy film. Since videos were not available, these films could only be seen on TV, in a theater, or on 16mm film. Since she found it difficult to find any of her father's films, she asked if she and her husband Rand Brooks might come over sometime to watch a Laurel & Hardy film! There a great friendship began. I brought Lois to her first Laurel & Hardy club meeting (The Sons Of The Desert). Later I became the film archivist for the Laurel family as well as for the local of the Sons Of The Desert chapter, the Way Out West tent. I would travel with Lois and her new husband Tony Hawes for local shows and lectures that Lois and Tony would put on. These were very fun times as I got to meet a lot of old actors from the Hal Roach studios as well as show films regularly at the Masquer's Club in Hollywood.  There I had the privilege to meet a lot of famous people back at the projector.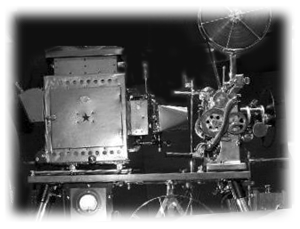 "The madness gets worse! Compared to 35mm I always thought that 16mm was the end all be all for film collecting. In many ways it is due to the availability of so many titles, cost and ease of moving the light weight equipment.  But…I always had a fascination for 35mm hand crank projectors. A friend of mine, Dave Feldman, and I took a road trip to visit Mr. George Hall in Tucson, Arizona. George, who I now consider my mentor, had a vast collection of early 35mm projection equipment and film. In fact his house was set up as an early cinema museum. When we were there, George demonstrated his 1905 Power's model 5 Cameragraph hand crank projector with a live arc in the lamphouse! What a thrill to see this! I asked if I could crank a film and he took me back to another projector (a Simplex) which was harder to crank—but that didn't matter. All that I can remember is that I started cranking and was so mesmerized by the magical image created by cranking this wonderful machine, I couldn't stop, and at about 2:00 a.m., after cranking some 20,000 feet of film, Dave and George had to pull me away from the projector!
"I purchased a Power's model 6A lamphouse and base from George. I then purchased a very nice Power's model 6B projector head from Mr. Dick Prather in Portland, Oregon. I did a full-on restoration and converted the lamphouse to a high intensity halogen light source that is safe for film. I begged and borrowed small pieces of 35mm film. I would do demonstrations on the side of my building and on my garage door at home. Wow! What a picture! 35mm rules!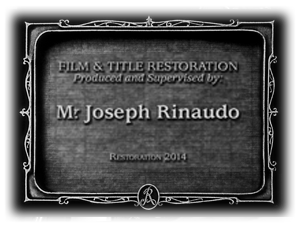 "I started doing outdoor demonstrations with any film that I could find. I never thought that I would be able to afford a real 35mm film, let alone a silent. My good friend Mr. David Shepard asked me if I would do a show for him at the Silent Movie Theater in Los Angeles. He said that this year (2002) was the 100th anniversary of Georges Melies's A Trip To The Moon.  Mr. Bob Mitchell would be playing the music and David Shepard would be reading the spoken text.  We would have to do two shows. He kindly offered to let me make a new print off of his negative in return for cranking the shows! To do my first public performance with such important and wonderful people as Bob Mitchell and David Shepard at the Silent Movie Theater with CNN in attendance…heck, I would have paid David to do the shows! So with my able assistant, Mr. Gary Gibson, both of us dressed like itinerant projectionists from the early 1900's, both shows went over well to full houses and great reviews.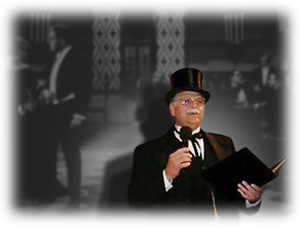 "Since that time I have worked with The Library of Congress in the restoration of silent film, as well as doing regular hand crank shows for the Academy of Motion Picture Arts and Sciences' 100 Years of Film series. With Mr. Dean Mora  and Mr. Gary Gibson we have done and regularly do re-creation turn-of-the-last-century itinerant motion picture shows for The Handford Fox Theater, The Visalia Fox Theater, The Balboa Theater, The Peterson Car Museum, The Turner Classic Film Festival, The San Rafael Theater, six shows a year at the Nethercutt Museum (boasting the third largest theater organ in the world) and numerous colleges, schools, and other venues.
"Looking back to my 8mm days, I would have never thought in my wildest dreams that I would have ended up projecting 35mm—with a crank, no less!"
---
I am very proud of my friend Joe for accomplishing his dream of founding the Silent Cinema Society to preserve the art and technology of silent cinema. I am also honored he employs my talent to restore the titles for his films…
A Golden Opportunity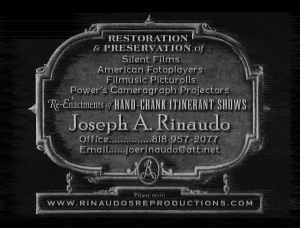 Actually, this was a Black-and-White Opportunity: Joe asked me a few years ago if I'd be interested in restoring the title cards for his films and create new ones when the originals are lost to time. Who knew two best friends would be so valuable to each other nearly fifty years after meeting in seventh grade—my restoring the missing parts to his films and he restoring my passion for lettering and typography? I have enjoyed rendering titles for Joe for several years now, and I even get to see them projected on the silver screen in silent comedies and dramas accompanied by the Mighty Wurlitzer. (Twice a year Joe brings his itinerant show to the Nethercutt Museum in Sylmar, California. A calender of events and details about the shows are on their website.)
Silent…with Sound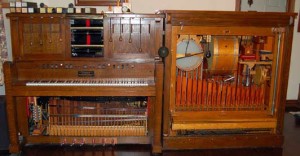 Joe is all about silent film, but he also loves sound. Loud sound! Not the dialog and music that passes through the projector that is printed on the film. Oh no, Joe's silent films are accompanied by an ear-shattering, robust "symphony" created by one person sitting at one machine: The Fotoplayer. This resembles a player piano, but with two rolls for changing music for different scenes; an assortment of pull cords, levers, buttons and stops connected to a side cabinet containing organ pipes, percussion, brass, sound effects, and literally bells and whistles. The pianist usually lets the rolls play the music while he selects the instrument stops and creates the sound effects. He's watching the film, of course, all at the same time.
Joe has one of these machines. He acquired his American Fotoplayer Style 20 while he was 21 years old and spent the next three years restoring it to brand-new condition. it's the centerpiece in his living room. This thing is loud! It's amazing Joe has any neighbors left, unless they're all hard of hearing. Joe recently completed the restoration of a Style 41 American Fotoplayer for the Academy of Motion Picture Arts and Sciences (remember, the Oscar people).
Learn more about the Fotoplayer on Joe's Fotoplayer Page.
See the calendar of Professor Rinaudo's Itinerant Shows under "COMING ATTRACTIONS" and treat yourself to some comedy, suspense, or pathos of the golden—er, black and white—era of silent cinema.