Here's a list of resources and enter­tain­ment relat­ing to Silent Cin­e­ma Art and Tech­nol­o­gy:
Dean Mora
Silent Cin­e­ma Organ­ist and Swing Band Leader
Dean Mora evokes sus­pense, laugh­ter, even hor­ror, at the Mighty Wurl­itzer when he accom­pa­nies Joe Rinaudo's hand crank Silent Cin­e­ma itin­er­ant show at the Nether­cutt.
Mr. Mora and His Orches­tra are also reg­u­lar­ly fea­tured at Maxwell DeMille's Cica­da Club, a vin­tage night club and Los Ange­les swing danc­ing venue in down­town Los Ange­les as well as many oth­er venues, events and pri­vate par­ties through­out South­ern Cal­i­for­nia.
Mr. Mora's music is reg­u­lar­ly played through­out Disneyland's Main Street and Disney's Cal­i­for­nia Adven­ture where it is heard by thou­sands of vis­i­tors each day.
Famous Players Orchestra
Reviv­ing Remark­able Music
Famous Play­ers Orches­tra per­forms and records his­toric cin­e­mat­ic music used by movie the­ater orches­tras dur­ing the silent film era.
Nethercutt Collection
Fea­tur­ing the World's Third Largest The­atre Pipe Organ
Opu­lent venue for Joe Rinaudo's hand-crank itin­er­ary shows, fea­tur­ing the 5,000-piped Mighty Wurl­itzer The­atre Organ
Nether­cutt cal­en­der of events
American Theatre Organ Society
Los Angeles Theatre Organ Society
Who's Who of Victorian Cinema
Who's Who of Vic­to­ri­an Cin­e­ma is edit­ed by Stephen Her­bert and Luke McK­er­nan. The web­site states: "This is a guide to over 300 lead­ing fig­ures in Vic­to­ri­an cin­e­ma, defined as film­mak­ing in its broad­est sense from the first glim­mer­ings in the 1870s to the death of Queen Vic­to­ria in Jan­u­ary 1901."
The Bioscope
As stat­ed on the web­site: "The Bio­scope is ded­i­cat­ed to the sub­ject of ear­ly and silent cin­e­ma. It cov­ers news, pub­li­ca­tions, events, dis­cov­er­ies, doc­u­ments, crit­i­cal the­o­ry, film­mak­ers, per­form­ers, audi­ences and the tech­nol­o­gy of the silent era, embrac­ing film pro­duc­tion, dis­tri­b­u­tion and exhi­bi­tion, as well as 'pre-cin­e­ma', chronopho­tog­ra­phy, opti­cal toys, and relat­ed media, across the world. There is an empha­sis on research and schol­ar­ly dis­cov­ery, but there should be as much here for the gen­er­al enthu­si­ast as for the spe­cial­ist." The Bio­scope is no longer active as a blog but is being kept online as an archive. It was admin­is­tered and writ­ten by Luke McK­er­nan.
Title Design
Title, Inter­ti­tle and Lantern Slide Restora­tion and Recre­ation
Chaz DeS­i­mone, Joe Rinaudo's friend of 50 years, retouch­es and recre­ates titles and inter­ti­tles for Joe's silent film restora­tions, as well as for oth­er col­lec­tors and restor­ers.
Before:

After: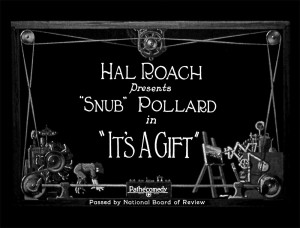 Here's a sam­pling of restored silent film titles and glass lantern slides.
In this cen­tu­ry, Chaz designs logos, books, brochures and web­sites (includ­ing this one). His per­son­al design project is amperart.com, fea­tur­ing "the amper­sand as fun & fab­u­lous art."
Early to Bed Tent — Oasis #239
For Lau­rel & Hardy Fans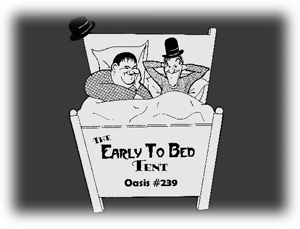 The Ear­ly To Bed Tent — Oasis #239 is where peo­ple of all ages join us six times a year to hon­or the lives and enjoy the clas­sic humor of the great­est com­e­dy team in the world — Lau­rel & Hardy.
Joe Rin­au­do plays Lau­rel & Hardy's theme song:
First you will recognize an original soundtrack of the Laurel
&

Hardy theme song. Next, Joe Rinaudo tells us a heartwarming story about its composer, Marvin Hatley. Finally, listen to the "Cuk-Cuk Walzer" which inspired the famous theme song, played on the American Fotoplayer.

The main focus of our tent is on the films of Stan Lau­rel and Oliv­er Hardy. We screen all of their movies that are avail­able to us in the 16mm film for­mat. In addi­tion to the films that Lau­rel & Hardy made as a team, we view some of their ear­ly solo work as well.

Joe Rin­au­do, Gary Gib­son and Dean Mora are men­tioned on this page.
Suggestions?
Please suggest more links to build the Silent Cinema Society Resources List in the comments section, below. And of course (not so silently) tell your fellow silent cinema fans to visit SilentCinemaSociety.org. Thank you.
---