Our event was something like this (with Dean Mora, not Mildred Smith, at the piano).
"It was just amaz­ing!
We had nev­er had an audi­ence like that before."
On a recent Sat­ur­day evening, Scott Lasky, founder of Famous Play­ers Orches­tra, host­ed an itin­er­ant show billed as
CLASSIC SILENT COMEDIES
Hand-Cranked 35mm Film on
Orig­i­nal Power's 1909 Cam­er­a­graph Mod­el 6
Motion Pic­ture Machine
with Live Musi­cal Accom­pa­ni­ment
The March 5, 2016 event was held at the Christ Luther­an Church in Bur­bank, Cal­i­for­nia. Admis­sion was $10 for a 2-hour show with inter­mis­sion (pro­gram list­ed below).
I, Joe Rin­au­do, cranked the pro­jec­tor and Dean Mora played the piano. Gary Gib­son changed the glass slides dur­ing inter­mis­sion. And the audi­ence blew us all away!
Same old show, brand new audience
I've done over some 200 shows and, for the first time, hav­ing adver­tised on Face­book thanks to Scott Lasky, we got a young, effer­ves­cent, 30-some­thing crowd in there. From the very begin­ning there was an elec­tric­i­ty in the air. They were laugh­ing and talk­ing and buy­ing hot dogs and pop­corn and look­ing around and talk­ing to every­body and inspect­ing the pro­jec­tor. It wasn't the same audi­ence that we usu­al­ly get, which is most­ly elder­ly and rather qui­et. (They don't laugh or talk very much, as they are famil­iar with this for­mat as well as the films.) This was a young, new crowd and a new expe­ri­ence for them — and they even induced the "reg­u­lars" to laugh and enjoy the show even more.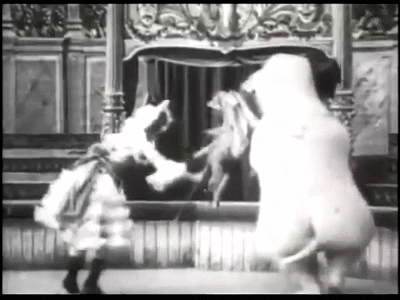 When we start­ed the first film, The Danc­ing Pig (fea­tur­ing the ever-pop­u­lar but always slight­ly dis­turb­ing danc­ing pig), brought forth gales of laugh­ter and howl­ing and cheer­ing — and shock — from the audi­ence. The response just kept grow­ing and grow­ing, and by the time we got to The Gro­cery Clerk, which is one of Lar­ry Semon's mas­ter­pieces, it brought the house down. We had peo­ple laugh­ing hys­ter­i­cal­ly. They were boo­ing the vil­lain, cheer­ing the hero­ine, and shout­ing and laugh­ing.
The audience saw a "moving picture" for the first time
It struck me that this is what the reac­tion would have been like for a 1920 audi­ence see­ing this film for the first time. Many of these peo­ple not only had nev­er seen a silent film before, but they have nev­er seen a show like this with live musi­cal accom­pa­ni­ment and a hand-cranked pro­jec­tor doing the whole show for them. So it was a total over­load, I think, of their sens­es. It absolute­ly floored me because their reac­tion was so pos­i­tive and so upbeat. They were catch­ing every lit­tle nuance in the film and every lit­tle gag was get­ting laughed at. It was just amaz­ing. We had nev­er had an audi­ence like that before.
Not only was the film enter­tain­ing, many peo­ple want­ed pic­tures of the pro­jec­tor and with me and with Dean and Gary. We were pos­ing in peri­od cos­tume with the pro­jec­tor and they were film­ing it with their cam­era phones and such.
---
Don't miss the next show!
SUBSCRIBE HERE
to the Silent Cin­e­ma Soci­ety News­reel.
---
It was a very inter­est­ing evening and every­thing went all very well. It end­ed on a big bang with Buster Keaton in Cops and we got a huge cheer and an ova­tion at the end. It was just a won­der­ful time.
Epiphany
I had a moment of clar­i­ty at that show, a life-chang­ing moment, where sud­den­ly I saw the rea­son for doing what I'm doing:
I'm bring­ing some­thing to these peo­ple that they had nev­er seen before and that tru­ly enter­tained them — as if it was an audi­ence that was see­ing "mov­ing pic­tures" for the first time. Because it actu­al­ly was! It wasn't a mod­ern film in col­or and in dig­i­tal tech­nol­o­gy in 3D; it was a flat screen black and white image from a hun­dred years ago.
The audi­ence was also amazed that we were doing all the work by hand — I'm crank­ing the pro­jec­tor, Gary's chang­ing the slides and Dean is play­ing the piano. They lis­tened atten­tive­ly as I explained the role of the itin­er­ant pro­jec­tion­ist trav­el­ing from town to town, set­ting up a show in a hall or church base­ment, and draw­ing audi­ences through advance telegraphed announce­ments.
This show renewed my faith in human­i­ty. The won­der­ful young audi­ence is hun­gry for this type of enter­tain­ment.
I real­ized in this one show that what I'm doing is right, that it does make a dif­fer­ence.
Facebook: the new telegraph
Adver­tis­ing on Face­book was a whole new dynam­ic for us. It spread the word and drew the audi­ence, a fresh and curi­ous audi­ence who real­ly didn't know what to expect, much the same as the tele­graph and hand­bills would have spread the word 100 years ago.
Through our new "tele­graph" called social media, and your help in spread­ing the word, we'll intro­duce this 100-year-old form of enter­tain­ment to a young, new gen­er­a­tion of audi­ences who are atten­tive, curi­ous and amazed. After all, you can't hand-crank an iPhone.
PROGRAM



"

The Dancing Pig" (1907) Pathe
"The Acrobatic Fly" (1910) Comet Films
"It's a Gift" (1923) Starring Snub Pollard
"The Rink" (1916) Starring Charlie Chaplin
"The Grocery Clerk" (1920) Starring Larry Semon
"Cops" (1922) Starring Buster Keaton
---
Don't miss the next show!
SUBSCRIBE HERE
to the Silent Cin­e­ma Soci­ety News­reel.