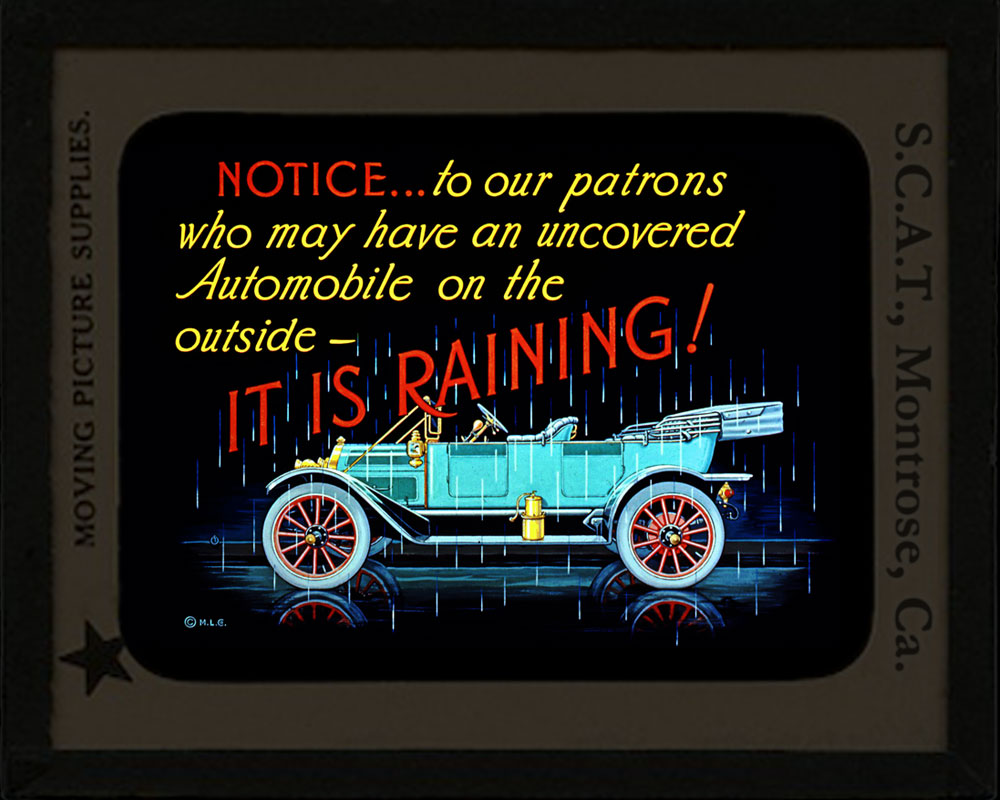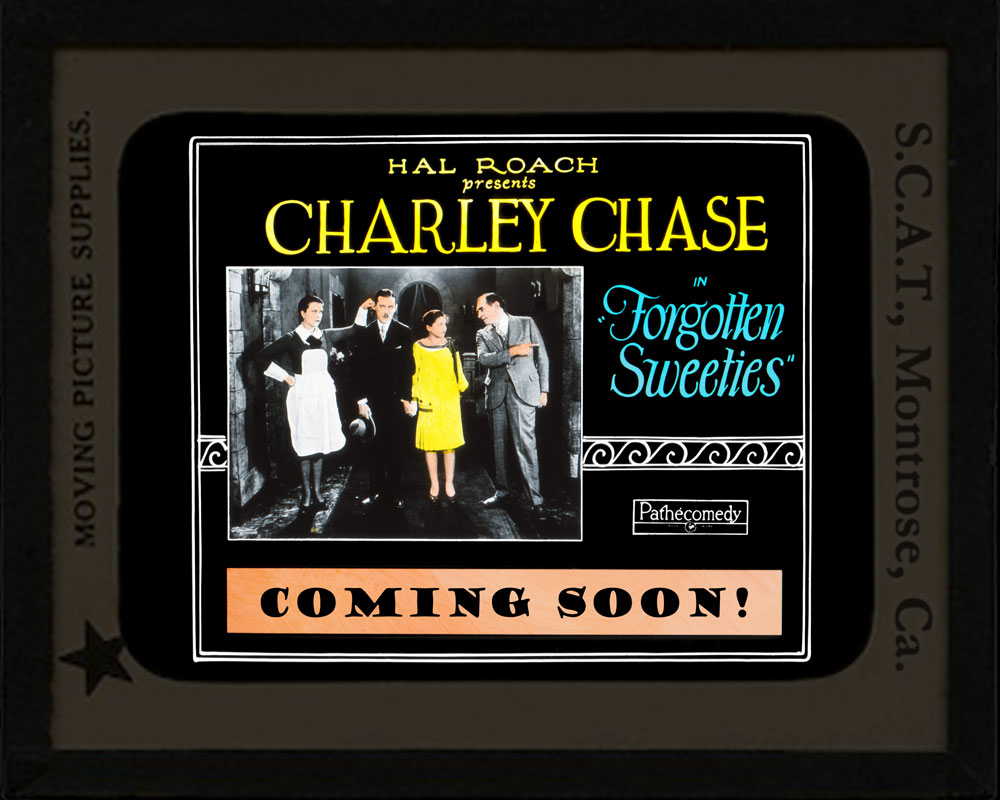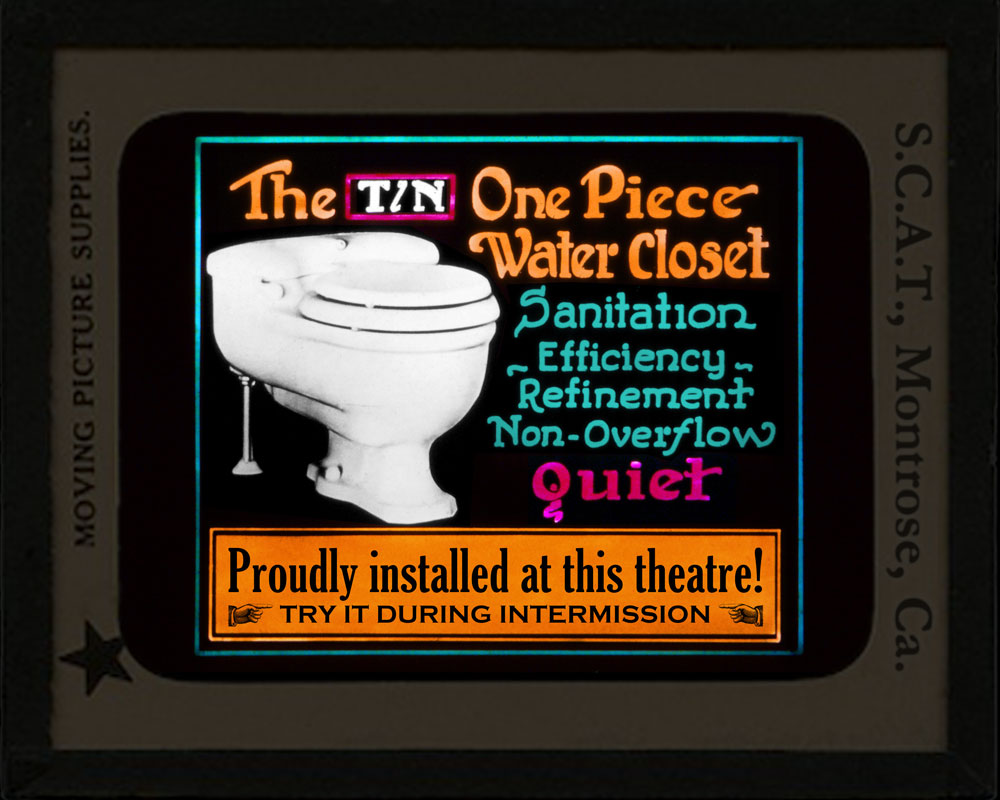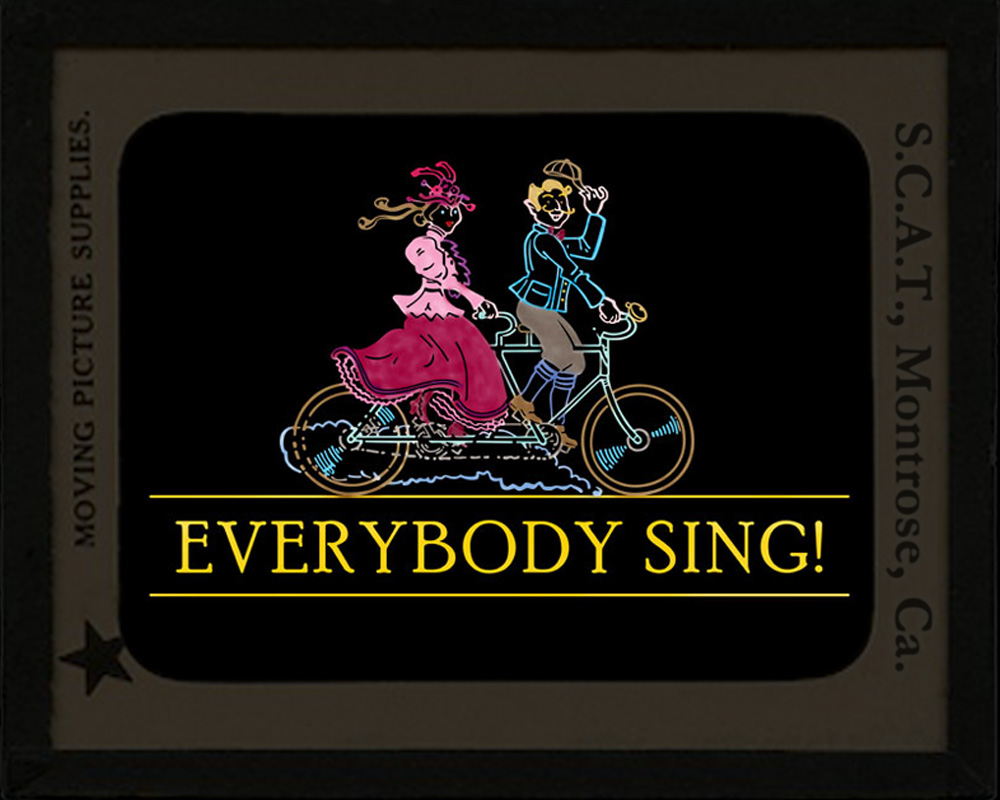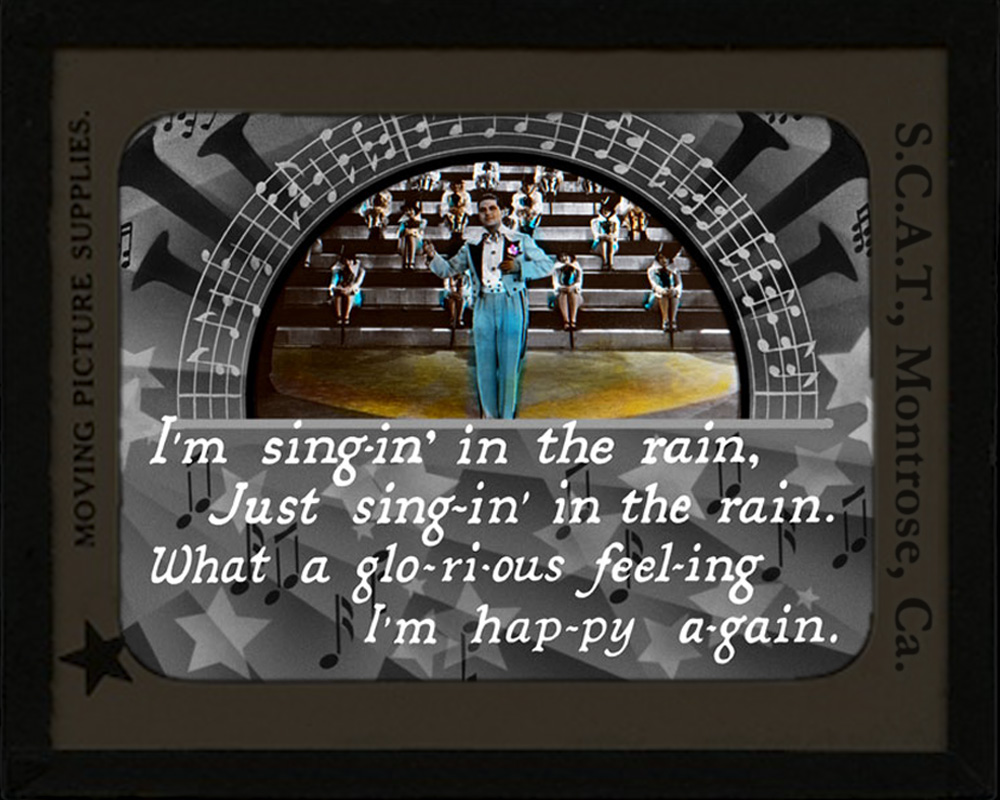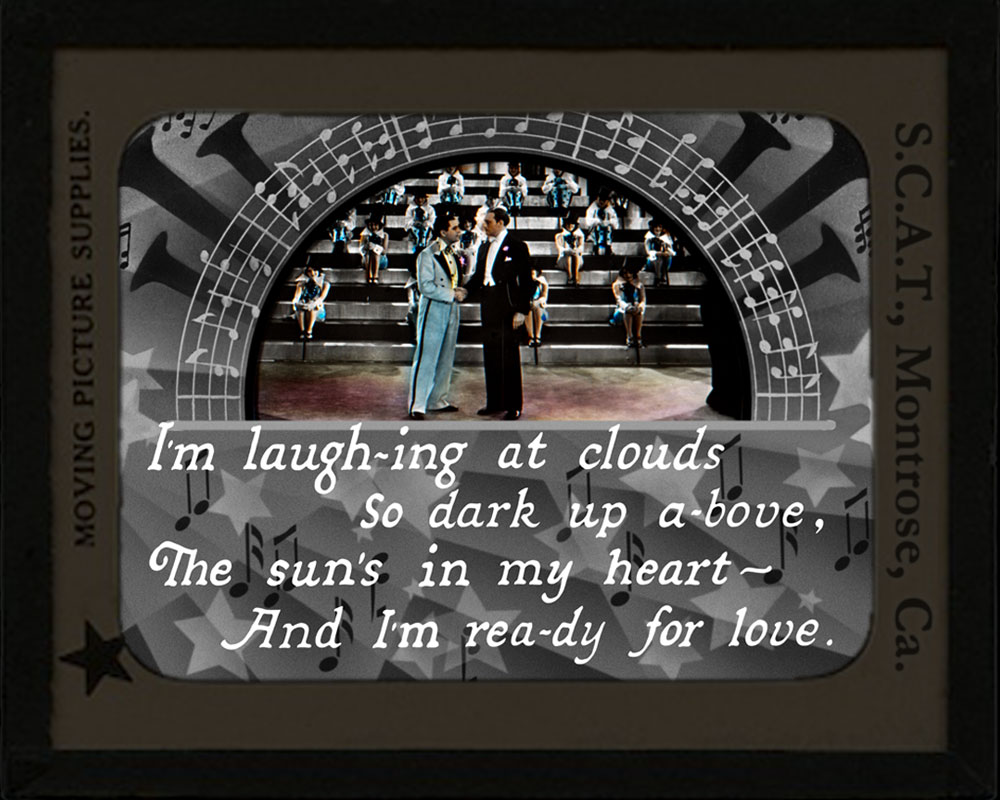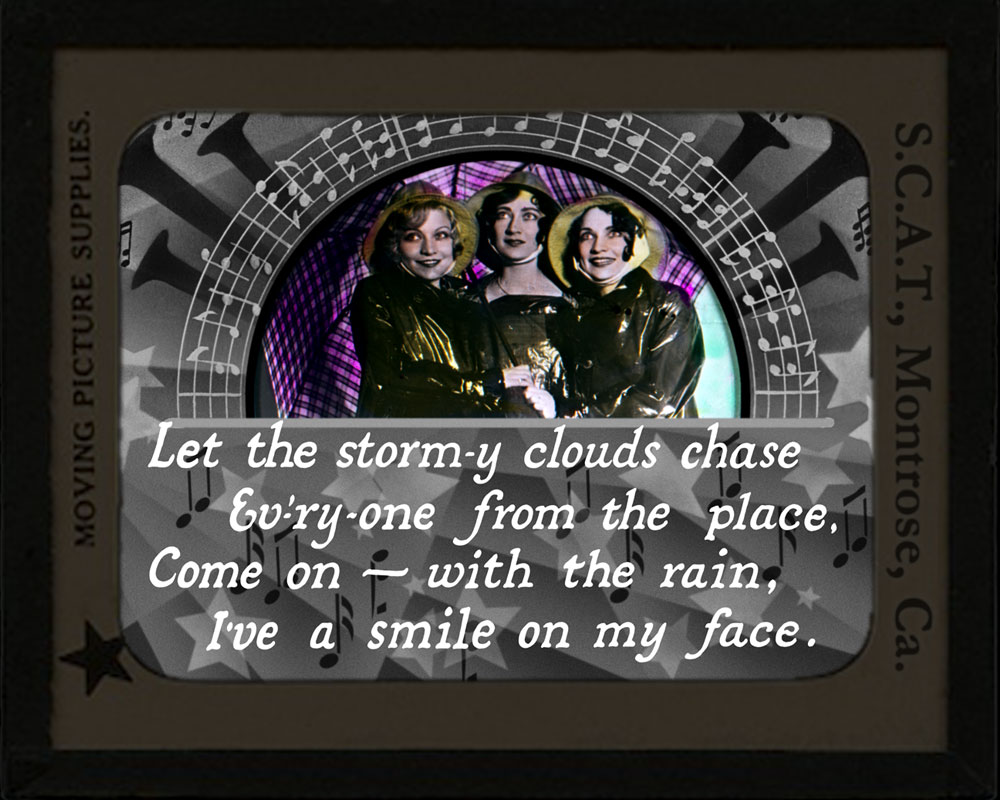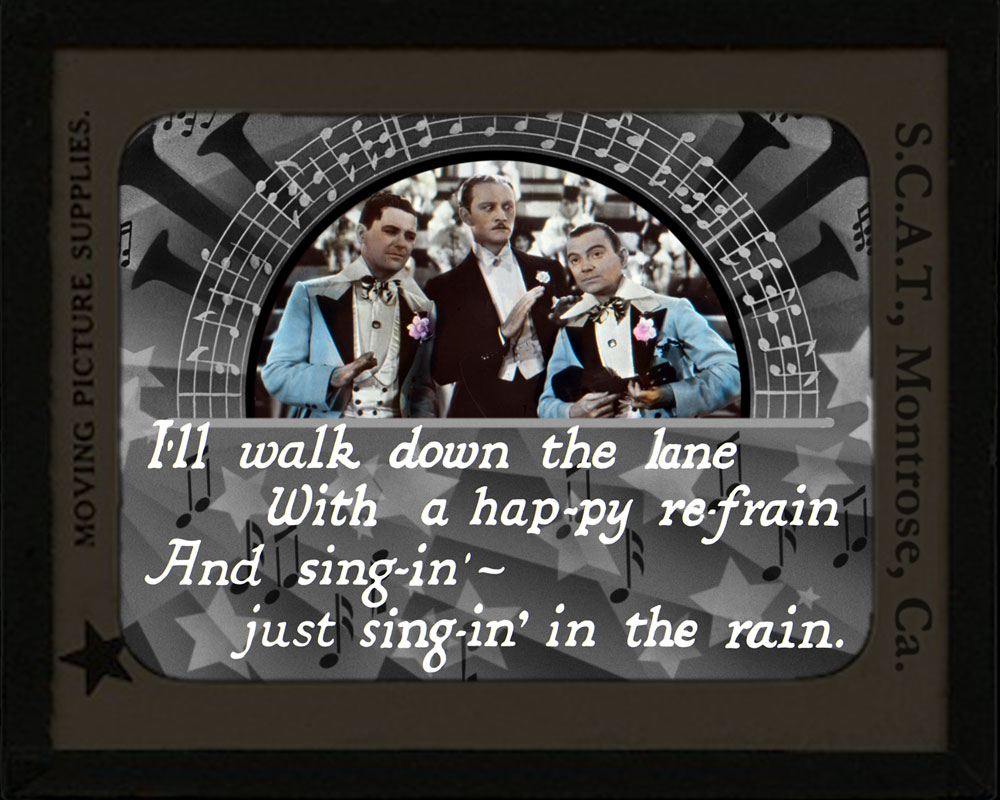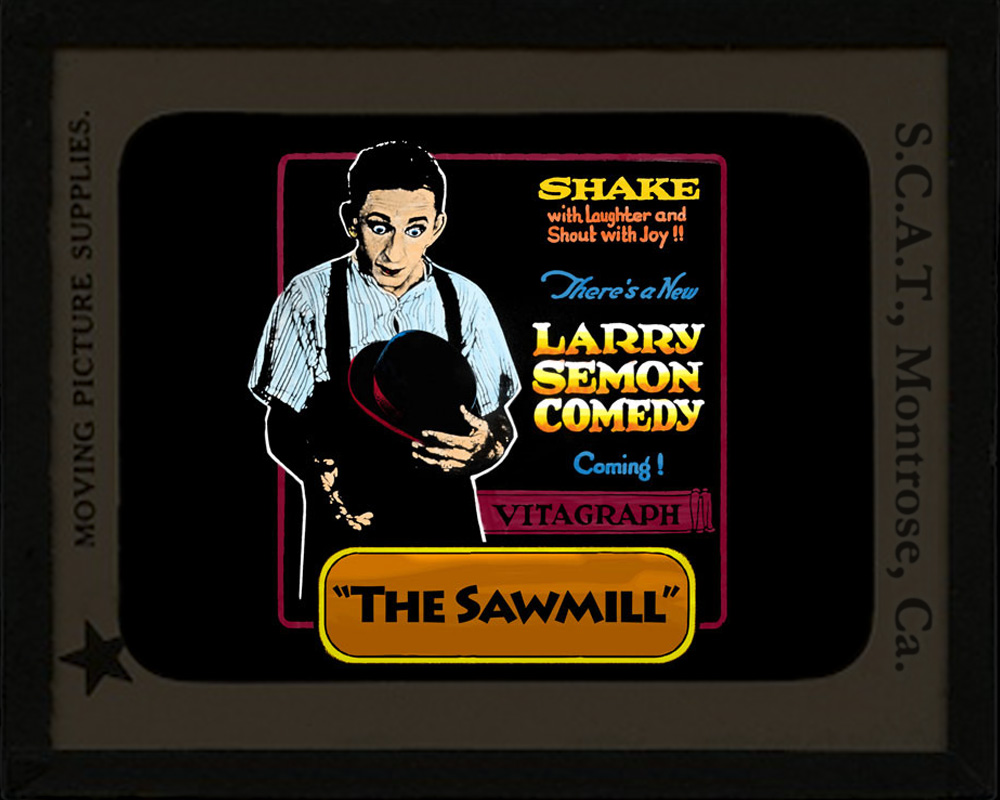 INTERMISSION
(OR…THE FILM JUST BROKE)
In the years of silent cin­e­ma, lantern slides were used pri­mar­i­ly to announce com­ing attrac­tions, adver­tise prod­ucts and ser­vices, and to enter­tain the audi­ence while film reels were being changed on the pro­jec­tor. It also served as an emer­gency paci­fi­er when­ev­er the film broke or caught on fire (real­ly! —ear­ly nitrate film was high­ly com­bustible).
The itin­er­ant pro­jec­tion­ist had a large case of sev­er­al slide cat­e­gories: pre-show and inter­mis­sion slides includ­ing sing-alongs, code of con­duct announce­ments, upcom­ing pro­grams, and adver­tis­ers' lures. Yes, there were "com­mer­cials" way back then, too. There were also emer­gency pro­ce­dure slides in case of a film catch­ing on fire or oth­er com­mon cat­a­stro­phe.
The authen­tic glass lantern slides shown on this page are from the col­lec­tion of Joe Rin­au­do, silent cin­e­ma his­to­ri­an and preser­va­tion­ist. They are all orig­i­nal images, opti­cal­ly restored by Chaz DeS­i­mone and re-mount­ed by Mr. Rin­au­do.
Here's what the worn, scratched, fad­ed slides looked like before they were restored to orig­i­nal splen­dor:
and after:
Type is sharp­ened, col­ors are restored, con­trast is expand­ed, and every scratch and spec of dust is removed. The bril­liant col­ors are bleed­ing out­side the image because these black and white pho­tographs were hand-col­ored with vibrant trans­par­ent dyes. Con­sid­er­ing how small the slides are, it took a fine brush and a steady hand to stay with­in the lines. You'll notice an uneven­ness in some large areas of col­or, where the ink tend­ed to blob, streak or mot­tle.
These bril­liant slides added a splash of col­or to an oth­er­wise mono­chro­mat­ic show.
HISTORY
OF
THE
LANTERN
SLIDE
The mag­ic lantern was invent­ed long before mov­ing pic­tures. Here's some his­to­ry from Wikipedia:
The mag­ic lantern or Lat­er­na Mag­i­ca is an ear­ly type of image pro­jec­tor devel­oped in the 17th cen­tu­ry. It was com­mon­ly used for edu­ca­tion­al and enter­tain­ment pur­pos­es.
The mag­ic lantern used a con­cave mir­ror in back of a light source to direct as much of the light as pos­si­ble through a small rec­tan­gu­lar sheet of glass — a "lantern slide" — on which was the paint­ed or pho­to­graph­ic image to be pro­ject­ed, and onward into a lens at the front of the appa­ra­tus. The lens was adjust­ed to opti­mal­ly focus the plane of the slide at the dis­tance of the pro­jec­tion screen, which could be sim­ply a white wall, and it there­fore formed an enlarged image of the slide on the screen.
Apart from sun­light, the only light sources avail­able at the time of inven­tion in the 16th cen­tu­ry were can­dles and oil lamps, which were very inef­fi­cient and pro­duced very dim pro­ject­ed images. The inven­tion of the Argand lamp in the 1790s helped to make the images brighter. The inven­tion of lime­light in the 1820s made them very much brighter. The inven­tion of the intense­ly bright elec­tric arc lamp in the 1860s elim­i­nat­ed the need for com­bustible gas­es or haz­ardous chem­i­cals, and even­tu­al­ly the incan­des­cent elec­tric lamp fur­ther improved safe­ty and con­ve­nience, although not bright­ness.
The mag­ic lantern was not only a direct ances­tor of the motion pic­ture pro­jec­tor, but it could itself be used to project mov­ing images, which was achieved by the use of var­i­ous types of mechan­i­cal slides. Typ­i­cal­ly, two glass slides, one with the sta­tion­ary part of the pic­ture and the oth­er with the part that was to move, would be placed one on top of the oth­er and pro­ject­ed togeth­er, then the mov­ing slide would be hand-oper­at­ed, either direct­ly or by means of a lever or oth­er mech­a­nism. Chro­motrope slides, which pro­duced eye-daz­zling dis­plays of con­tin­u­ous­ly cycling abstract geo­met­ri­cal pat­terns and col­ors, were oper­at­ed by means of a small crank and pul­ley wheel that rotat­ed a glass disc.
—Wikipedia; read full arti­cle here
TITLES
&
INTERTITLES
View before-and-after restora­tion exam­ples of silent cin­e­ma main titles and inter­ti­tles .