≡≡≡≡≡ FREE GIFT FOR YOU ≡≡≡≡≡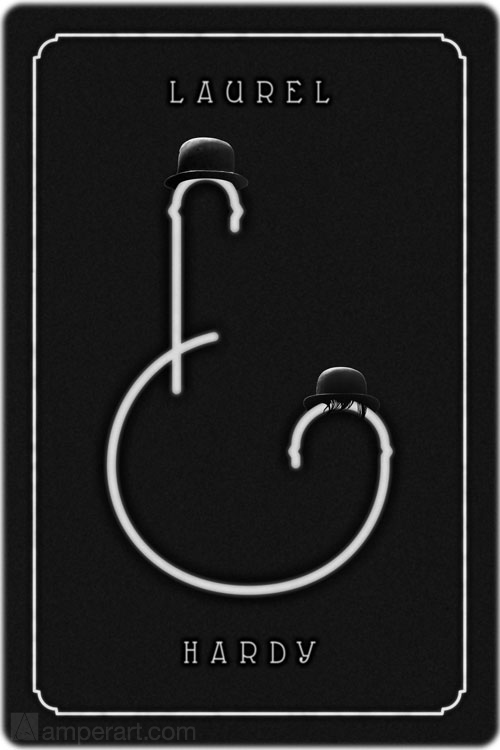 This poster, hon­or­ing the great­est com­e­dy duo of all time, was cre­at­ed by design­er and typog­ra­ph­er Chaz DeS­i­mone, who also cre­ates the titles for Joe Rinaudo's film restora­tions. (He also designed the Silent Cin­e­ma Soci­ety logo and web­site.) Chaz takes great plea­sure and hon­or in design­ing for Joe, his best friend of over 50 years. He made sure this poster was extra-spe­cial, to the extent of con­sult­ing Joe about the exact hats Stan and Ollie wore.
≡≡≡≡≡ FREE GIFT FOR YOU ≡≡≡≡≡
The 11x17-inch high-res­o­lu­tion pdf is of gallery print qual­i­ty and suit­able for fram­ing. Vis­it this page and click on the large poster image to down­load the hi-rez pdf.
"Lau­rel & Hardy" is the lat­est in Chaz DeSimone's month­ly series called Amper­Art. Each piece fea­tures "the amper­sand as fun & fab­u­lous art."
If you are a writer, edi­tor, design­er, pub­lish­er, artist — or if you just like the quirky design of the amper­sand, of which there are lots & lots of vari­a­tions — you will sure­ly enjoy AmperArt.com. Be sure to sub­scribe for your free month­ly amper­sand poster, suit­able for fram­ing.