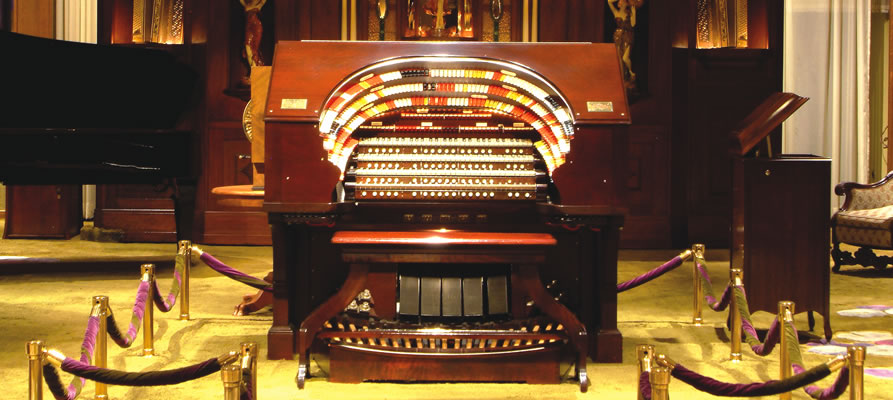 The Nether­cutt Collection's 5,000-piped Mighty Wurl­itzer The­atre Organ, third largest in the world, which pro­vides musi­cal nar­ra­tion to the Silent Cin­e­ma Soci­ety Hand-crank Mov­ing Pic­ture Show.
You are in for a treat, attend­ing an event at The Nether­cutt Col­lec­tion. The show is free but you must be pru­dent about obtain­ing tick­ets. Here's how:
You can request tick­ets by phone only.
Call on the spec­i­fied Wednes­day at 4:00 pm sharp.

☎ 818 – 364-6464
The tick­et phone line is open from 4pm to 6pm, but it's
best to call right at 4 pm to ensure you get tick­ets before they're sold out — and every per­for­mance sells out!
Tick­ets are free, but you must call in only at this time. You may order up to 4 tick­ets, and spec­i­fy which show you wish to attend. Your tick­ets will be mailed to you unless you request will-call.
INSTRUCTIONS FOR CALLING:
Dial 818 – 364-6464. If you get a busy sig­nal hang up and redi­al. (Remem­ber busy sig­nals?) Don't give up; some­times it takes 100 dials and up to an hour to get through. Every­one says it's worth it — besides, the show is free.
If you get a voice­mail prompt just push 0 (zero) and this should put you in queue for the next live oper­a­tor that picks up the phone. (Remem­ber live phone oper­a­tors?)
When a per­son answers, they will ask you which show you pre­fer (see show­times below) and how many tick­ets (you're allowed up to 4). They will also ask whether you've attend­ed before. They appre­ci­ate returnees as well as new guests.
You can have the tick­ets mailed to you or held at will-call. (Mail­ing is bet­ter for you because an infor­ma­tion sheet is enclosed.)
SHOWTIMES:
FRIDAY at 8 pm
SATURDAY at 2 pm and 8 pm
Doors open 45 min­utes before show­time. Arrive ear­ly to exam­ine the Nether­cutt Col­lec­tion of auto­mo­biles and musi­cal instru­ments pri­or to the show.
LOCATION:
Nether­cutt Col­lec­tion
15200 Bled­soe Street
Syl­mar, CA 91342
map
Busi­ness or semi-for­mal attire is appro­pri­ate, although there is no manda­to­ry dress code.
Chil­dren must be 10 and old­er.
PROGRAM NOTES:
Pro­ject­ed on a 1909 Pow­ers Cam­er­a­graph Mod­el 6,
hand-cranked by Joe Rin­au­do.
Music and sound effects by Dean Mora at the Mighty Wurl­itzer, the third largest the­ater organ in the world.
Your host is Kyle Irwin, cura­tor, who will demon­strate the Nether­cutt Collection's auto­mat­ed musi­cal instru­ments before the show and dur­ing inter­mis­sion.
You may also tour the col­lec­tion of over fifty clas­sic cars which are on dis­play in a muse­um set­ting that recre­ates the mar­ble and mir­rored show­room of an ear­ly auto­mo­bile deal­er­ship.
MORE INFORMATION:
Pow­ers Cam­er­a­graph pro­jec­tor
Dean Mora, organ­ist and swing band leader
Nether­cutt Col­lec­tion
Don't for­get to call on the spec­i­fied Wednes­day at 4pm—
and enjoy the show!