—REMINDER— SATURDAY JUNE 10 —REMINDER—
---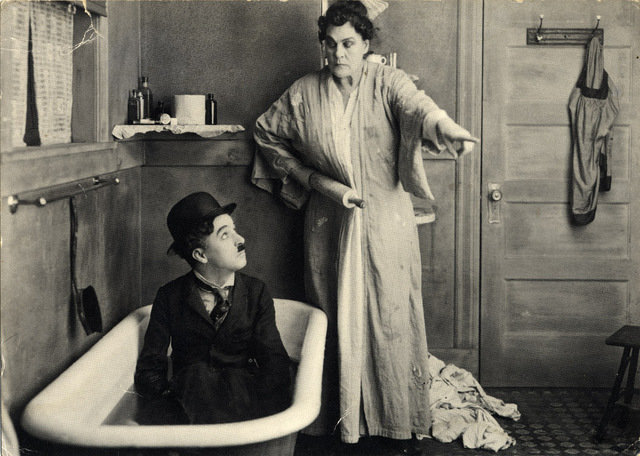 ---
—REMINDER— SATURDAY JUNE 10 —REMINDER—
Famous Players Orchestra
presents:
"The Gold­en Age of Silent Com­e­dy"
Sat­ur­day, June 10th, 2017 at 7:30 p.m.
Join us Sat­ur­day, June 10th, 2017 as we present "The Gold­en Age of Silent Com­e­dy", a screen­ing of four clas­sic come­dies from the silent era.
---
To start the evening off, Mr. Stan Taffel and Mr. Scott Lasky will take you through the process of how the orches­tra is used to make the films on the screen come alive musi­cal­ly.
For the first time ever there will be sound effects to go with the films. Mr. Gary Gib­son is the sound effects man.
---
Included on the program will be:
Why Pick on Me? (1918) star­ring Harold Lloyd, Bebe Daniels and Snub Pol­lard
Pay Day (1922) star­ring Charles Chap­lin
A Pair of Tights (1929) star­ring Mar­i­on Byron, Ani­ta Garvin and Edgar Kennedy
The Show (1922) star­ring Lar­ry Semon and Oliv­er Hardy
The films will be accom­pa­nied by a peri­od musi­cal score per­formed live by The Famous Play­ers Orches­tra under the direc­tion of Scott Lasky. Mr. Lasky has cre­at­ed orig­i­nal scores using peri­od music. He has spent many, many days research­ing and compiling/creating peri­od scores for each of the four films to be screened.
Your Mas­ter of Cer­e­monies will be film his­to­ri­an Mr. Stan Taffel.
Joe Rin­au­do will project 35mm film on an orig­i­nal hand-cranked Power's 1909 Cam­er­a­gragh Mod­el 6 Motion Pic­ture Machine, assist­ed by Mr. Gary Gib­son.
Mr. Shane Glan­der will be pro­vid­ing the screen. Mr. Gary Lach­er will be on hand to video doc­u­ment the evening.
---
Show­time is 7:30pm. Doors open at 6:45pm. Pro­gram will include a 30 minute inter­mis­sion and raf­fle with prizes. Con­ces­sions will be avail­able.
Admis­sion is $15 (sug­gest­ed dona­tion). Tick­ets may be pur­chased at the door begin­ning approx­i­mate­ly one hour before show­time, or in advance online here:
The venue is: Christ Luther­an Church, 2400 West Bur­bank Blvd, Bur­bank, CA 91505. It is locat­ed on the south­east cor­ner of Bur­bank Blvd and Bue­na Vista St, direct­ly behind the Dunn Edwards paint store, and right in the heart of beau­ti­ful down­town Bur­bank.
Thank you to every­one for attend­ing our past shows and for your con­tin­ued sup­port! It is so great­ly appre­ci­at­ed!
---
ABOUT

FAMOUS

PLAYERS

ORCHESTRA
In the final decades of the silent film era (1910 -1929), a new and orig­i­nal art form was bur­geon­ing. Dur­ing this peri­od, a vast and beau­ti­ful reper­toire of film music was being cre­at­ed by gift­ed com­posers who saw a great future in the new medi­um. Movie the­aters of the day com­mon­ly uti­lized orches­tras to pro­vide film accom­pa­ni­ment for their pre­mi­um show­ings. These the­aters typ­i­cal­ly housed mas­sive libraries of this music, (known at the time as "pho­to­play" music) for use as film accom­pa­ni­ment. How­ev­er, the advent of "talkies" in 1929, pre­ced­ed by the Movi­etone and Vita­phone sys­tems, would even­tu­al­ly bring the demise of live film accom­pa­ni­ment. Thus, as movie the­aters con­vert­ed over to sound, these music libraries became obso­lete almost overnight and most of the music was dis­card­ed in the process. And since pho­to­play music was rarely record­ed, and the com­posers most­ly unknown, this impor­tant chap­ter in cin­e­ma his­to­ry was swept away into obscu­ri­ty and has remained prac­ti­cal­ly for­got­ten.
Famous Play­ers Orches­tra is a 501©3 non­prof­it orga­ni­za­tion whose char­i­ta­ble mis­sion is ded­i­cat­ed to reviv­ing and pre­serv­ing this charm­ing and long for­got­ten music through live per­for­mances and new record­ing projects. For its reper­toire, Famous Play­ers Orches­tra draws upon the orig­i­nal orches­tra­tions used by silent era movie the­ater orches­tras in its live pre­sen­ta­tions and record­ings. The ensem­ble is com­prised of pro­fes­sion­al musi­cians based in the Los Ange­les area.
Your sup­port is appre­ci­at­ed! Your gen­er­ous con­tri­bu­tions help us to con­tin­ue our work in reviv­ing and pre­serv­ing this musi­cal trea­sure from cinema's past. Dona­tions are eas­i­ly accept­ed using pay­pal. Thank you!