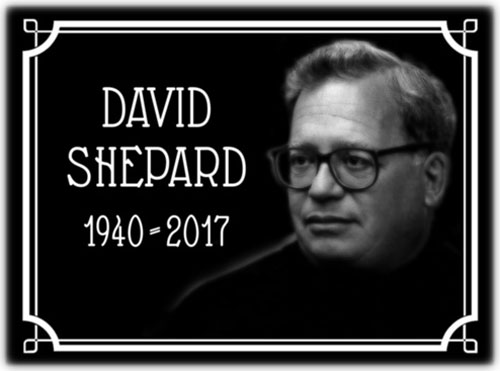 TRIBUTE by JOE RINAUDO:
I was great­ly sad­dened by the news of the death of my friend David Shep­ard. It is a loss for his fam­i­ly, friends, film preser­va­tion and to all peo­ple, young and old alike, who love the art of film. His loss to the film com­mu­ni­ty will be felt for gen­er­a­tions yet to come.
David was not only a good friend but my men­tor, advis­er, and fel­low film col­lec­tor whose pas­sion can only be described as a "call­ing." It is unimag­in­able to think of a world with­out a per­son such as David. I first met David when I bought a 16mm Black­hawk print from him at a film con­ven­tion in the ear­ly 1970's. A few years lat­er David had heard that I had a Pho­to­play­er and asked if he might use it for musi­cal accom­pa­ni­ment for one of his video releas­es. I jumped at the chance to work with David and to be involved in film preser­va­tion — it was a dream come true!
David Shep­ard is the unsung hero who always would lend a print or do a show for free if it meant enter­tain­ing and edu­cat­ing the audi­ence at the same time. He would dri­ve great dis­tances and bring his 16mm pro­jec­tors to do these shows, not ask­ing for any­thing in return oth­er than the great joy these shows would give his audi­ences. It was this kind­ness and the want to share the film expe­ri­ence with younger audi­ences that gave me the inspi­ra­tion to do, what I call, 16mm "kid­die" shows at local pri­ma­ry schools. To hear the young chil­dren laugh at the films, of long for­got­ten and unknown come­di­ans to them, is a unique expe­ri­ence I shall nev­er soon for­get.
In 2000 I went to a friend's house that had a 35mm hand crank pro­jec­tor. I was so fas­ci­nat­ed by the mechan­ics and the beau­ty of the 35mm image that I asked if I might crank a reel or two. At 2:00 a.m. , after I had cranked 20,000 feet of film, they had to pull me away from the pro­jec­tor! I was hooked! I pur­chased a pro­jec­tor which I had to do a com­plete restora­tion on and found some old 35mm sound film and began doing 35mm hand crank demon­stra­tions in my dri­ve­way.
In Octo­ber of 2002 David asked me if I could do him a favor. Would I hand crank two shows at the Silent Movie The­ater with Bob Mitchell play­ing the music for the film. This would be for the 100th anniver­sary of George Melies' Trip To The Moon! So there I was with my assis­tant Gary Gib­son dressed in full cos­tume as itin­er­ant pro­jec­tion­ists crank­ing out two silent film shows for David as he read the copy aloud for "Moon." After the last show David said: "Keep the print of Trip To The Moon as a gift for the help you gave me." Hell, I would have paid him for the oppor­tu­ni­ty! It was these two shows that gave me the inspi­ra­tion to recre­ate itin­er­ant pro­jec­tion motion pic­ture shows. David and his busi­ness part­ner Serge Bromberg (of Lob­ster Films) have always let me bor­row and helped me find and/or pur­chase 35mm silent films to be used in my shows for the edu­ca­tion of new audi­ences.
We have done some two hun­dred 35mm hand crank shows since that first one at the Silent Movie The­ater. We have appeared at muse­ums, col­leges, schools, church­es and reg­u­lar­ly at the Nether­cutt Muse­um spread­ing the art of the silent film, all thanks to David Shep­ard.
Serge Bromberg has the spark and pas­sion to car­ry on David's work. Serge is a true lover of film. Serge and David have saved so much film and then have made it acces­si­ble to the pub­lic through their videos that it is a great hon­or to have been able to work with them when they have asked me.
How do you sum up a man's life and work in a few para­graphs? I don't think that it is pos­si­ble with David Shepard's life. What I do think is pos­si­ble is to car­ry on his pas­sion for the art of film and to share it as much as pos­si­ble as he did so well, so it may nev­er be for­got­ten.
David, I will nev­er for­get you. I will know that when I hear young audi­ences laugh, cheer or scream with joy at a film that is being shown because of you, my heart will swell with pride for know­ing you. May GOD for­ev­er bless you.
Sin­cere­ly,
Joe Rin­au­do
---
Below, film archivists and his­to­ri­ans Serge Bromberg, Leonard Maltin and Kevin Brown­low on DAVID SHEPARD: AMERICAN FILM PRESERVATIONIST, a film trib­ute to Shep­ard on Mon­day, Novem­ber 7, 2016 at at Loew Audi­to­ri­um, Dart­mouth Col­lege:
---
This trib­ute appeared in The Hol­ly­wood Reporter.

---